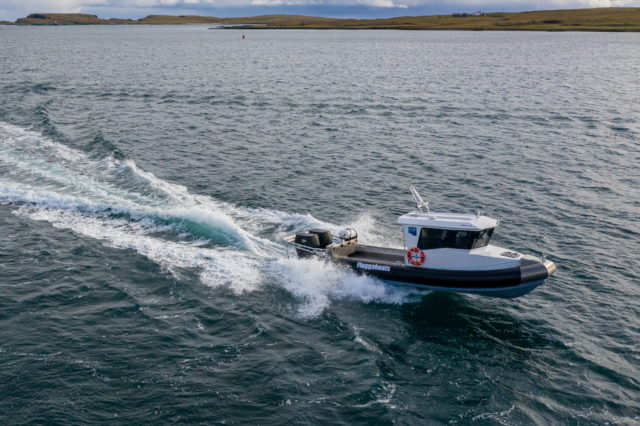 Flugga Boats, based in Shetland, has focused on sustainability, safety and useability to create workboats that are efficient and practical.
The company has built six boats for Grieg Seafood, four with a forward cabin and two with an open aft cuddy. The boats use OXE diesel outboards which are remarkably fuel-efficient. Farm operators rate the workboats highly for their safety, seakeeping and comfort. They are also pleased with the boats' versatility and low maintenance costs.
The rib-like workboats make use of an innovative design. Made of aluminium with a high-density polyethylene (HDPE) collar – which is flexible but highly durable – they have a very low cost throughout the life of the boat. The efficiency of the OXE outboard also contributes to this. The boats are currently on target to do about 1,000 hours per annum against a viability standard based on 800 hours.
The six newbuilds are capable of maximum speeds in excess of 30 knots and a cruising speed of 25 knots, helping to make them light on fuel consumption.
The boats are supplied fully coded and operational on delivery. All have Raymarine electronics and Cat 3 safety equipment. Cabin boats are even equipped with engine-run heaters, which are very welcome in winter weather.
The team at Flugga are confident that their customers are increasingly looking at sustainability and environmental impact when it comes to choosing workboats, and this includes the manufacturing process itself.
Flugga Boats has its own wind turbine which can power the whole workshop most days, as Shetland is rarely short of wind! www.fluggaboats.co.uk

Captions:
Featured: The twin engine cabin boat.