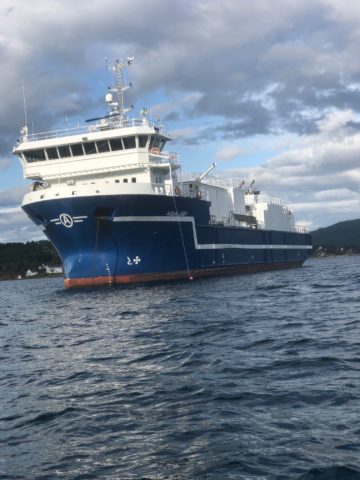 AquaShip combines expertise to form world class company
In July 2018 Shetland based Johnson Marine Ltd, and Norwegian wellboat operator GripShip AS merged to form a new world class company with the express intention of creating an innovation led global shipping company in the maritime aqua service sector.
Johnson Marine, well known throughout the aquaculture sector as an innovator of on-site harvesting systems, had grown rapidly since its inception in 2008. Prior to the formation of AquaShip it had over 115 employees operating a fleet of 17 vessels, on charter, throughout Scotland, Iceland, and the Mediterranean.
One of the key drivers in the decision to merge the two companies was the desire to harness and combine the companies significant expertise and skill set and capitalise on the considerable growth opportunities facilitated by the creation of a new entity with aspirations to design and construct a fleet of innovative, industry led vessels that would operate in all four main areas of the maritime industry. To help realise this vision AquaShip successfully secured private equity financing from New York based AMERRA Capital Management.
AquaShip AS then went on to acquire two additional harvesting vessels, the Aqua Viking & Gerda Sæle from Artic Shipping AS and Salmon Star AS respectively in date thus AquaShip's initial goal of creating the first shipping company in the world to own and operate service vessels, harvest vessels, live fish carriers and, feeding carriers had been achieved.
AquaShip Group is headed up by CEO Sverre Taknes who states that their main goal is to contribute to further growth in the market and to, more specifically, help their customers produce as much top-quality fish as possible. To achieve that goal, AquaShip relies on building long-lasting customer relationships, providing a reliable service, a growing fleet of modern vessels with up-to-date technology and innovative solutions and most importantly crews with the unique and valuable combination of maritime expertise and hands-on experience.
Following an intense post-merger integration process the AquaShip Group has been organised into a solid regional structure with the group headquarters in Kristiansund Norway and business units based in the UK, Norway and Chile. Their Global Markets unit manages operations in Iceland, Canada and the Mediterranean regions which are seeing rapidly developing production activity.
AquaShip UK is being led by industry veteran Alan Bourhill. Paying tribute to his predecessors Angus and Ivor Johnson he said: 'Over the past 12 years Angus and Ivor, with the support of the team here in Shetland, grew their marine service company with a reputation for delivering innovation and customer service. The foundation they created will continue to be developed within the new group organisation.'
Although AquaShip operates all over the world, their decentralised organization brings the company closer to their customers and their markets. The combined experience and expertise in each service segment makes them a natural partner for both large and small fish farming companies alike.
The arrival of brand new and modern harvest vessel Aqua Mist in June 2020 takes the AquaShip fleet up to 31 vessels, delivering services to sea farmers and fish feed producers around the globe. In addition, a new-build vessel named Aqua Caledonia will be added to the fleet in June 2021. The vessel is a well equipped 1500 m3 live fish carrier, that will operate in Scotland. The Aqua Caledonia project shows the company's ability to deliver customised, flexible, and innovative solutions to the aquaculture industry. Of course, the AquaShip presence in all segments of maritime aquaculture services places the company in a unique position to understand customer needs, and to deliver fitting solutions based on its broad experience of the value chain from feed to end marked product.
'The post-merger integration process that we undertook at the end of 2019 has been transformational. We have, in a short space of time been successful in integrating our cross-cultural teams, systems and processes and have a very strong platform for both future organic growth as well as global expansion.' said Bourhill.
'When companies partner with AquaShip they are capitalising on the many years of experience we bring to the table and are secure in the knowledge that the standards we operate to will enhance their own business objectives in the areas of safety, environmental and economic performance'.
For more information contact Alan Bourhill on +44 (0) 7468 912144 or visit aquaship.co.uk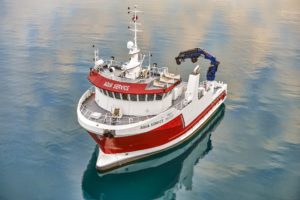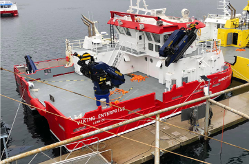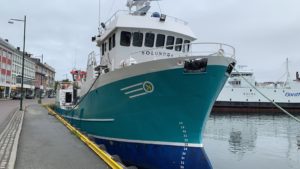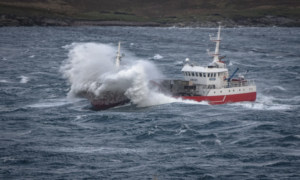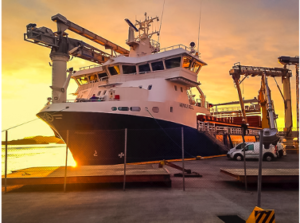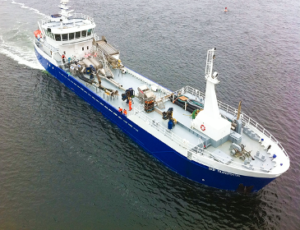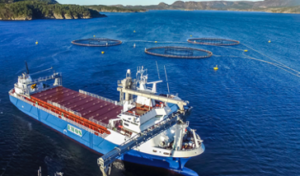 Captions: Featured image: Aqua Lady 1950 tonne capacity feed carrier operating in Norway;
Aqua Service 24m x 11m service vessel operating in the Mediterranean; Aqua Enterprise 15m x 10m service vessel operating in Iceland; Aqua Solundoy 300m3 harvest vessel operating in Scotland; Viking Viknes; Aqua Fjord 1950 tonne capacity feed carrier operating in Norway; Aqua Fjell 3200 tonne capacity feed carrier operating in Norway;
Aqua Transporter 1250m3 fish transporter and treatment vessel operating in Ireland;