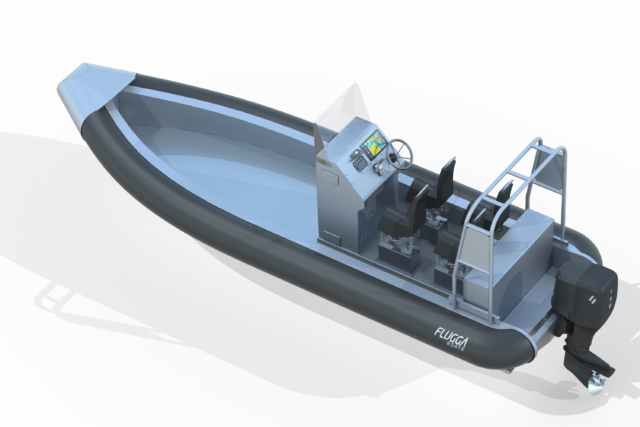 Fluggaboats can handle tough conditions – and now there's an electric option
We have recently completed a six-boat order for Grieg Seafoods. These were 8.5 and nine metre boats using OXE diesel outboards. They have been very successful in the role they are used for and the crews like them. The boats are built to an approved structural design and supplied ready coded MCA Cat 3 for use on arrival on site.
The Fluggaboats' use of aluminium for the hull and the HDPE collar make a very durable, long-lasting boat that is proven to be up to to the use that farms require. Their strong structure and reserves of buoyancy mean these boats are probably the best on the market.
We are aware of environmental considerations in the industry. Even our workshop is powered by our own wind turbine, and this has led us to investigate different propulsion methods, including an electric drive. At Aquaculture UK we will have on show the latest boat from Fluggaboats, an all-electric workboat. Some delays in supply mean we may not have all the testing we wanted done before the show, but we are confident that we have another winner in the range we can offer.
Currently we are working on MCA coding and hope to have this in place for Aviemore.
The new boat will be on display on stand OS11 just outside the main entrance, with further information on other Fluggaboats at stand 205 inside.
First showing at Aquaculture UK 22 – The all electric Fluggaboat 
Ideal for fish farming and featuring a 125 hp electric outboard and 64 kwh battery.
On stand OS11 outside and stand 205 inside