The new MS 2750 is the next generation of salmon filleting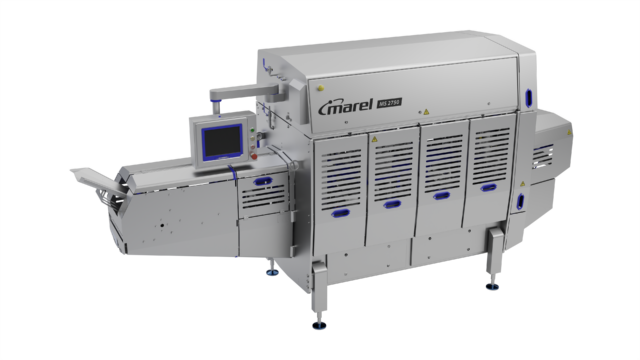 Powerful filleting machine with automatic infeed and trimming of salmon and trout up to 10 kg taking filleting to the next level.
The MS 2750 from Marel is an advanced filleting machine designed for high-level performance in processing pre- and post-rigor salmon and trout from 1.5 kg to 10 kg, providing processors with improved throughput, quality, yield and uptime.
The machine is modularly built with reinforced parts for extended durability to prevent critical breakdowns. The open heavy-duty frame structure secures stability and cleanability.
Indeed, the simplified and hygienic construction ensures easy maintenance and thorough daily cleaning. Every adjustable component is servo driven, with easy digital adjustment and settings on the 15" touch screen with an innovative graphical user interface.
The fish automatically enters the MS 2750 filleting machine from the Marel Automatic Deheader MS 2721V or from the Marel PaceInfeeder – used when fishes are deheaded manually. Each fish is accurately measured to ensure optimal yield. Back and belly are cut according to the trimming program selected, minimizing the need for manual trimming and unnecessary waste. Processors can choose optional tools for trimming back and belly to reduce manual trimming and increase yield even further.
Key benefits include:
•Automatic infeed and trimming which reduces
manual labour
• Improved yield with dynamic knife adjustment
• Complete digital setup for supreme control
• Sturdy and hygienic design for maximum
uptime and easy cleaning
• Connection to the Marel cloud with SmartBase
Find out more (please link to Filleting machine
MS 2750 | Marel)