Techano delivers multiple lifting tools for the emerging offshore fish farm industry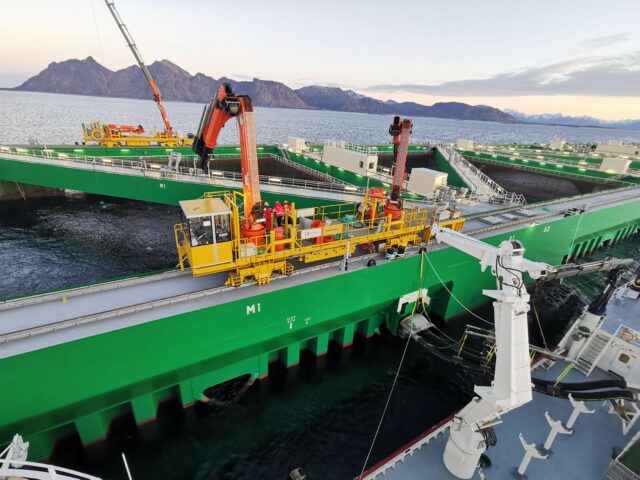 Based on Techano's pedigree from the traditional offshore industry, we have been able to utilise our knowledge to develop cross-over products for the emerging blue market – fish farming in rougher waters – by the use of our technology in a new context. We have a strong focus on, and understanding of, the fish farmers' key requirements and values.
Techano's rail mounted service units (RMSU) have been in successful operation onboard the offshore fish farm, Havfarm1, since its start up. The crane sets are rail driven, enabling them to serve all six pens, minimising the need for costly external service vessels. The units are also equipped with capstan winches, cabin and an offshore crane, and thus serving both inboard and outboard lifting operations.
The deliveries also include a system for fish transfer between the farm and the live fish carriers, with hoses, handling system and connections both inside and outside the fish farm.
Techano has developed a fish crowding system for traditional open pens, improving both fish health and logistical requirements.
Another major milestone in lifting technology is supplying Norway Royal Salmon's submersible fish farm, Arctic Offshore Farm (AOF). The deliveries include a set of mobile net handling winches, chain jacks for bottom ring operation, cranes and a motion-compensated slipway for the service boat.
Techano also delivers cranes and deck machinery to the traditional fishing industry. Currently, a series of 11 shipsets for trawlers are under delivery.