Slaughter ship Norwegian Gannet wins 10-year reprieve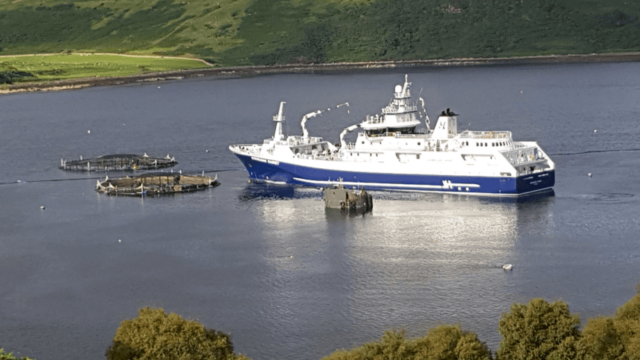 THE owner of the salmon slaughter ship Norwegian Gannet has been granted a 10-year dispensation allowing it to work with fish outside Norway's fish quality regulations.
Built three years ago to harvest salmon before it reached processing centres in Hirtshals, Denmark, the vessel has been at the centre of a sometimes acrimonious dispute between the Norwegian Ministry of Trade and Industry and Hav Line, its Danish owners.
Norway has introduced strict regulations governing its salmon, insisting any defects or quality issues must be corrected before it is exported for further processing.
Hav Line claimed the Ministry of Trade had gone back on an agreement with Hav Line allowing it to process fish with defects when the ship came into service in 2018 by suddenly changing the regulations, and last summer won its case in Bergen District Court.
Despite the court's ruling that the ministerial about-turn was "grossly unreasonable", a stand-off between the two continued until this weekend when Norway's Fisheries and Seafood Minister Odd Emil Ingebrigsten ruled that following a new overall assessment, it had been decided to grant Hav Line a special dispensation until December 2030.
The Minister said: "In the assessment, we have emphasised Norwegian Gannet's innovative solutions and because it will take goods off the road and onto the sea.
"We have also taken into account that Hav Line has invested large sums at a time when there may have been room for interpretation doubts about the requirements for domestic sorting. We hope (this decision) will provide stability for the company and for its employees."
He added it was in neither party's interests to further drag the case through the legal system.
Hav Line chairman Carl-Erik Arnesen said he was glad for the company and its employees and customers that uncertainty had now been brought to an end, adding that the Norwegian Gannet was the first ship of its type in the world.
The waiver states that the Norwegian Gannet can only deliver unsorted farmed fish to centres in Hirtshals run by the Hav Line group. The company must send in regular reports on how much fish is being sorted and corrected.
The decision has brought some criticism in Norway and objectors have three weeks in which to launch an appeal.