Norwegian Gannet owner claims court victory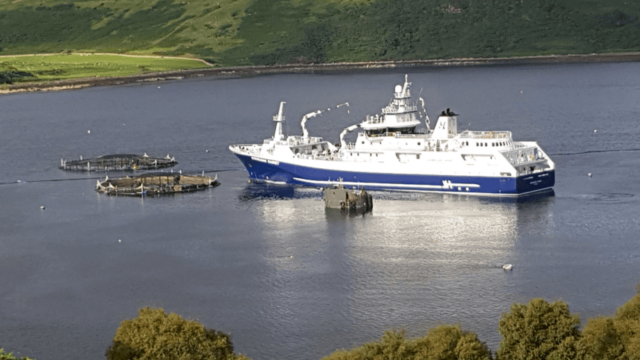 THE owners of the salmon slaughter ship Norwegian Gannet have won a major part of their long running processing dispute with the Norwegian fishery authorities.
Bergen District Court yesterday delivered its judgement largely in favour of the Danish based Hav Line following a hearing last month, conducted in part by video link. Hav Line is seeking damages, claiming that an agreement it struck with the food safety authority when the slaughter ship came into service two years ago was later illegally overturned by the Ministry of Trade which suddenly changed the regulations, demanding that damaged or deformed farmed fish must be sorted from the rest and put right in Norway before being sent for processing in Denmark.
The Norwegian Gannet was purpose built in 2018 to harvest salmon before it reached the processing centres in Denmark. Carrying a crew of 100 and capable of handling 160,000 tonnes a year , it was hailed as revolutionising the industry by reducing processing bottlenecks. The project was hailed as a brilliant environmental move.
Hav Line maintained that agreement allowing it to process salmon with defects was in place even before the ship was launched, while the Norwegian government argued that the country's reputation for quality seafood was at stake if less than perfect fish was allowed to leave the country.
Now the court has ruled that the ministerial about-turn was 'grossly unreasonable'. It said Hav Line had reasonable and legitimate expectations that the earlier arrangement with the food safety authority would be honoured, adding that the change was sudden and unexpected, leading to major financial consequences for the shipping line which had invested over a million kroner in the vessel.
The court awarded legal costs of NOK 4.27 million (£356,000) against the Norwegian government, but in a separate ruling the trade ministry is to receive NOK 250,000 in costs. However, Hav Line chairman Carl-Erik Arnesen said he looked on the verdict as a 'complete victory' for the company, adding that the Norwegian government now had a duty to look again at its stance. The case was also watched closely by the Danish government which had concerns at the way Oslo was acting. It is not yet clear if Hav Line will continue with its claim for compensation.