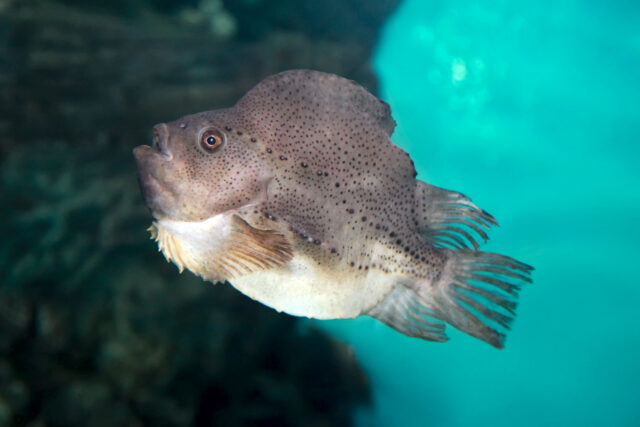 A new e-learning collaboration makes welfare training for lumpfish care more accessible.
Swansea University has made the E-learning on lumpfish welfare course more accessible to fish farmers working at Mowi – the world's largest supplier of farm-raised Atlantic salmon.
Swansea University, Centre for Sustainable Aquatic Research (CSAR), a global reference in fish welfare research and training, announced that the recently developed E-learning course on
lumpfish welfare will be available for use at Mowi's online learning portal "MOWI Academy".
"The Lumpfish Welfare E-learning Course complements Mowi's existing fish welfare policies and was designed with farmers in mind: it provides easy-to-follow videos, interactive visual exercises, and tailored instructions. This collaboration between Swansea University and Mowi will allow cleaner fish professionals to improve and implement lumpfish welfare assessments," notes Dr Sara Barrento, content developer and instructional designer.
"Our employees are located all over the UK, which creates obvious logistical challenges when delivering training," says Donald Waring, Mowi's Learning and Development Manager. "MOWI Academy is key to delivering vital training for safety, sustainability, policy and fish welfare, and was especially important during a sustained period of covid isolation. The E-learning course for lumpfish welfare delivered by Swansea University is an important tool now made very accessible to all of our company's farmers and fish health professionals."
This course was developed at CSAR in collaboration with The Scottish Salmon Company; MOWI Scotland; The Cleaner Fish Company; Ocean Matters; and Three Sixty Aquaculture.
The Course had the support from the UK Seafood Innovation Fund, the INTERREG Atlantic Area programme through the Access2Sea project, the Welsh Government, and the European Regional Development Fund through the SMARTAQUA project.
Contacts:
• Sara Barrento, Science Communication and Stakeholder Engagement Manager, Swansea University, Centre for Sustainable Aquatic Research
+44 (0)7884121703
• Paul Howes, Centre for Sustainable Aquatic Research manager
+44 (0) 1792 602 030
• Prof. Carlos Garcia de Leaniz, Centre for Sustainable Aquatic Research Director
c.garciadeleaniz@swansea.ac.uk
+44 (0)7891 615806
www.swansea.ac.uk/bioscience/csar