Scottish Sea Farms names new Regional Manager for Orkney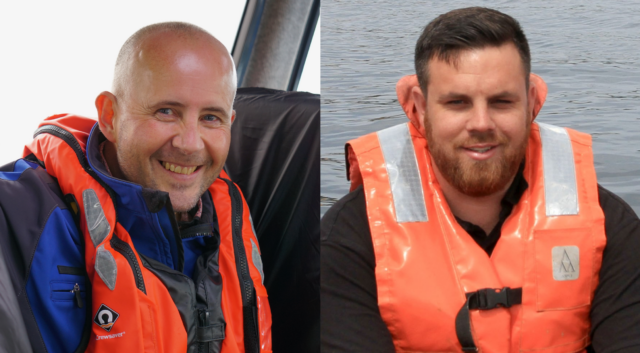 Salmon producer Scottish Sea Farms has appointed Duane Coetzer as Regional Manager for Orkney, completing the restructure of its Northern Isles operations following the acquisition of Grieg Seafood Shetland in December of last year.
Coetzer's appointment takes effect as from today. His predecessor, Richard Darbyshire – formerly long-serving Orkney Regional Manager, then, from 2020, Northern Isles Regional Manager with responsibility for both Shetland and Orkney – will now focus exclusively on the company's expanded estate in the Shetland Islands.
Coetzer, who is originally from South Africa, brings to the role 18 years' experience of finfish farming, having held senior positions including Site Manager and Seawater Area Manager with several producers in Scotland and, most recently, in Australia where he was General Manager of Marine Operations at Petuna Aquaculture in Tasmania.
Scottish Sea Farms Managing Director Jim Gallagher said: "Finding someone to maintain and build on the region's strong performance under Richard's tenure was never going to be an easy task. However, in Duane, I believe we have found the right experience and skill set.
"He understands first-hand the challenges that we face as farmers, along with the many different aspects of running a successful farm and region, from site set-up, feed optimisation and fish health, to record keeping, budgeting and production forecasts, along with leading and developing different teams."
Gallagher added: "I would like to take this opportunity to thank Richard for the years he has dedicated to growing our Orkney region and the legacy he leaves: a skilled, dedicated team that is widely respected across the business for consistently delivering some of our best survival figures, average weights and percentage of superior grade fish.
"I would also like to thank our Orkney team for maintaining this high performance while Richard has been integrating into his own new role as Regional Manager for Shetland."
Coetzer said: "I am excited to be joining Scottish Sea Farms and to be a part of the Orkney team especially; I believe our combined work ethic and skills will only enhance the strong results already achieved.
"Company-wide, I see values that align very closely with my own: the importance placed on fish health and welfare, the desire to actively contribute to our local communities, the care shown towards the environment and the ambition to become carbon neutral.
"Scottish Sea Farms are doing some really interesting work in each of these areas, and it's inspiring to be a part of that."