Salmon prices drop more than 8%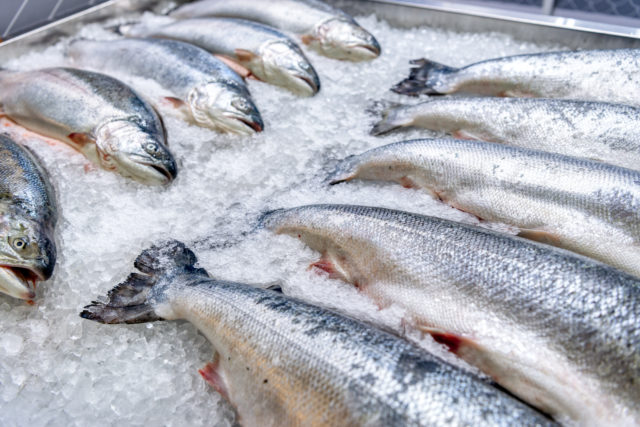 Will Norway's astonishing salmon export boom come to an end – or at least a temporary end – over the next couple of months?
This is the question being asked after fresh salmon prices fell by more than 8% in the past week, according to the latest figures from Statistics Norway.
They are now at a level not seen since the start of the start of the year when the market was starting to stabilise after Covid.
Predicting salmon price trends can be difficult as they can swing one way and then the other in a matter of a few days. Currently, supply situation is high which suggests they will stay down for a while.
Prices can also vary from considerably country to country. For example, buyers in China and South Korea have been paying around NOK 120 (£10.13) a kilo, far more than their European and US counterparts for Norwegian salmon, because of air freight costs, which have risen due to rerouting because of the war in Ukraine.
Statistics Norway said the export price for fresh salmon from week 29 to week 30 fell by NOK 6.51 or 8.1% a kilo. The week 30 figure is NOK 74.23 a kilo (£6.26), a level last seen at the start of February.
The volume was also down, although not hugely. The export quantity for fresh salmon totalled 18,358 tonnes, corresponding to a reduction of 3% from the previous week, when the export quantity was 18,927 tonnes.
Once again the exports of frozen salmon appears to be holding firm although prices are down. The week 30 figure was 37 tonnes higher at 48 tonnes and the price dropped by around NOK 20 to NOK 89.23 a kilo (£7.53).