Recapture hides for cleaner fish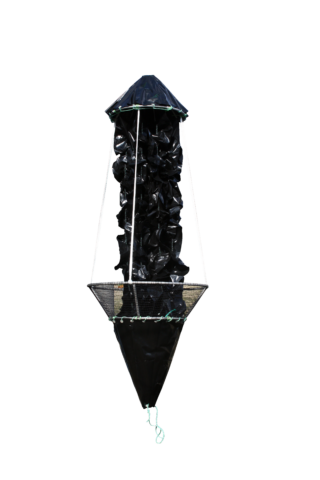 Cleaner fish such as wrasse and lumpfish can be safely removed from pens using kelp recapture hides from AquaSolutions AS. Made from a variety of materials and customised to suit the conditions at each site, the hides help to protect fish welfare and also make an operation more profitable.
The total length of the hides is six metres and the weight is 33kg.
Our Kelp hides are also customised and have different levels of durability to adapt to the needs of each site. The pvc is treated so it stays soft and maintains quality both in winter and summer.
Other products available for the aquaculture sector include: air rings for better water conditions; emergency oxygen sets for tanks in smolt and RAS facilities; and for Covid-19 precautions, a stand with a non-contact dispenser for disinfection and an intelligent fever thermometer.

AquaSolutions AS, based in Bindal municipality, Norway, is a supplier/partner for a range of products for small and large businesses. Through our network of contacts and knowledge of the manufacturing sector, we import a number of goods to our own warehouse or directly to the customer.
We help our customers to find new products or better prices for existing products, and we can assist with imports. Our network of contacts is built on relations with businesses in Asia, especially China, going back to 1986.
AquaSolutions sends its own people who visit new factories and check production and documentation to ensure safety and quality.
We are focused on developing innovative solutions for aquaculture. We are currently working with several leading players in the industry, and are constantly aiming for new heights.