Mowi CEO called to Canada after mass mortalities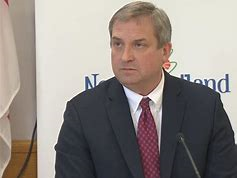 THE fisheries minister of Newfoundland and Labrador has suspended the farming licences of Mowi Canada East's Northern Harvest operations following a mass mortality last month.
Gerry Byrne has also demanded a face to face meeting with Mowi's Norwegian CEO, Alf-Helge Aarskog, after a reported 2.6 million salmon died.
The loss, revealed yesterday, represents around half Northern Harvest's production. Initially, the company estimated the figure at 1.8 million dead fish.
Mowi is blaming the mortalities on warming water, which it describes as the 'new normal' due to climate change.
Byrne said in a statement yesterday: 'This morning I was informed by officials from Northern Harvest Seafood Farm (Mowi Canada East) that additional salmon cage sites have been affected by a mass salmon mortality event on the south coast.
'The additional mortality numbers make total numbers higher than initially reported by the company.
'As a result of the ongoing investigation and evidence of non-compliance, I am suspending all affected Northern Harvest Seafood Farms licences and issuing a directive that requires the company to continue the clean-up of the sites.
'I will be amending licence conditions to all unaffected Northern Harvest Seafood Farms and other associated Mowi licence sites in the coming days.
'I have asked the international president of Mowi to be available as soon as possible for an in-person meeting with the Government of Newfoundland and Labrador.
'I have also directed Northern Harvest officials to make themselves readily available to media and provide full disclosure, as per our recently amended policies and procedures for aquaculture.'
Staff at the farm have been processing the decomposing waste for weeks, producing a 'pink sludge', according to reports.
Northern Harvest managing director Jamie Gaskill said at a press conference yesterday: 'I want to state for the record that we should have advised earlier of these additional mortalities as they occurred over time.
'We were too focused on clean-up efforts, and we have learned from this experience.'
The company said it would update its farming equipment in the region to combat the warmer temperatures, including the installation of deeper nets and aeration systems.
Ten out of 13 sites that Northern Harvest operates are affected, totalling 72 cages, according to a report by news channel CBC.
Byrne added: 'Our government is committed to making the aquaculture industry safer and recently implemented new policies and procedures, including enacting strict policies to compel companies to disclose disease and all mortality events regardless of cause in a timely manner.
'I want to reassure the people whose livelihoods depend on the aquaculture sector that we continue to focus on solutions that strengthen policies and practices to ensure public transparency is ever present.'