Investors urged to back thriving Lerøy Seafood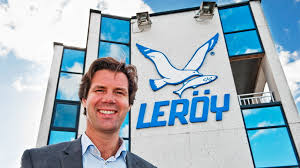 INVESTORS are being urged by a leading global financial advice organisation to 'run towards' the Lerøy Seafood Group (LSG) , the big Norwegian salmon farming and fishing company.
The advice, from financial technology company Simply Wall St, described Lerøy, which owns a half share in Scottish Sea Farms, as a business whose year on year earnings have been positive over the past five years.
The company has had an annual average annual growth rate of 23 per cent, beating the general market growth rate of 12 per cent.
It also has an impressive return on investment rate . Simply Wall St says: 'This consistent market out-performance illustrates a track record of delivering strong returns over a number of years, increasing our conviction in the Lerøy Seafood Group as an investment over the long term.'
Founded in 1899, Lerøy is one of Norway's oldest seafood businesses and now one of the world's largest salmon farming companies.
Three years ago, it moved into conventional fishing with the purchase of the Havfisk trawler fleet. Simply wall St says it has a strong balance sheet and has sufficient earnings to cover its debt interest payments.
It adds: 'Given its liquidity ratio holds up well with cash and other liquid assets exceeding upcoming liabilities, LSG's financial strength will continue to let it thrive in a fickle market.'
Simply Wall St says it focuses on providing unbiased, high quality research coverage on every listed company in the world to help investors make better informed decisions. However, despite its name, Simply Wall St is based in Sydney, Australia.