Coastal Workboats committed to supporting the Scottish Aquaculture sector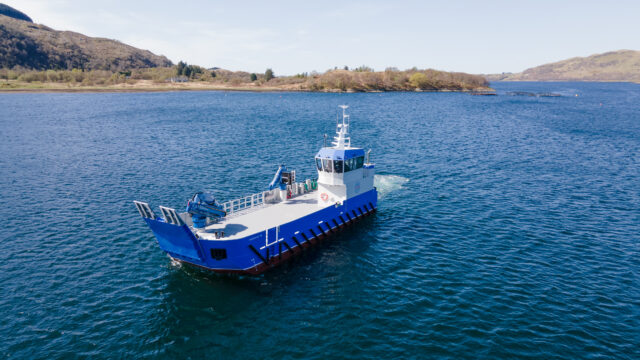 Coastal Workboats Scotland Ltd and its sister companies, Coastal Workboats Ltd and Coastal Workboats Support Services Ltd, are growing into a multifaceted group of businesses with the aquaculture sector at the core of the management team's focus.
The current group of companies was founded in 2011 and today has evolved into a leading builder of steel and aluminium commercial workboats and provider of associated support services.
The company's latest LUV2208 workboat build for Kames Fish Farming continues the close association with Damen Shipyards following on previous 16 metre and 19 metre Damen designed LUV (Landing Utility Vessel) deliveries into the Scottish aquaculture market.
The collaboration with Damen Shipyards has proven highly successful and hence a further four 2208LUVs will be built for stock during 2022/2023.
Brian Pogson, Founding Director, comments: "This is an exciting time for Coastal Workboats. We have worked closely with Damen Shipyards to bring to the market high quality UK built aquaculture service vessels and we see great future potential to support the aquaculture sector going forward. However, we also see our customer relationships as long-term partnerships and hence we have developed a Planned Maintenance Service model which will be offered through our Coastal Workboats Support Services business."
Considerable time has been spent behind the scenes to develop a new Planned Maintenance System cloud-based software application designed specifically for workboats and with ease of use in mind. Combining this with mobile service vans and qualified marine engineers, the business aims to provide a vital support function, reducing unplanned downtime and increasing productivity of marine assets.
Brian goes on to say: "We have a lot of in-house knowledge from the vessel construction process and see it as a natural extension to be able to offer our clients an annual service and maintenance contract post vessel delivery. However, our system is also designed so that we can easily offer the same service to other operators with workboats not built by ourselves, the only difference being that a vessel audit would be required to capture the different machinery and equipment onboard. The service can be extended to capture other marine assets – for example, feed barges – and is not limited to propelled vessels."
Investment is also being made into the core management team to support the expansion, with a Purchasing Manager recently joining the business in Devon to oversee group procurement and a Business Development Director joining in Scotland to focus on the group's growth north of the border.
"We see the Aquaculture market in Scotland as a core focus area for the business in the years ahead. Not only have we appointed a Business Development Director based in Scotland, but we have also established a small base in Argyll to store service vehicles and equipment and on a larger scale we are in active discussions around a new vessel fabrication site in Scotland which should see us being able to build steel workboats in Scotland within 2023," Brian continues.
The business is also very conscious of any contribution it can make towards an industry-wide awareness of environmental impact and the need for reduction in emissions.
"From a vessel construction perspective, we are looking at how we can reduce emissions at our potential new Scottish fabrication site with features such as rooftop solar PV (photovoltaic) panels
and electric charge points suitable for supporting electric forklifts. We have also invested in the development of a new zero emission aluminium electric RHIB design that we feel will be ideally suited to supporting the aquaculture sector and are extremely excited to get this new product onto the market," adds Brian.
Through the group's Coastal Pure business unit, the focus is on offering the market zero emission aluminium workboats on a long-term lease arrangement, whereby the cost of the more expensive electric propulsion technology can be managed more efficiently by spreading it out as part of a farming operations monthly OpEx (Operating Expense).
Not content with simply building steel and aluminium vessels, offering a Planned Maintenance Service, and introducing new zero emission workboats onto the market, the group has also been investing in its Technical & Design Support capabilities. The addition of Solidworks 3D design capability not only benefits the shipbuilding side of the business, but means associated technical and design support services can be offered to third parties including naval architects and other manufacturers.
In terms of the aquaculture market, the Technical & Design Support division sees opportunities to support an evolving industry where sea production infrastructure is increasing in size and complexity. Installation of larger model vessel deck Shipbuilder committed to supporting the Scottish Aquaculture sector cranes, installation of other vessel deck equipment items, and feed barge generator renewal with different generator models are examples of tasks which may require technical design support to ensure continued structural integrity of the main asset.
With a recently updated website www.coastalworkboats.co.uk and updated social media platforms, the business has also purposefully increased its communication efforts this year to keep the industry more up to date with the latest developments and services.
For any queries or enquiries please get in touch with the team on sales@coastalworkboats.co.uk or reach out directly to Business Development Director Robbie Cook on robbie@coastalworkboats.co.uk