BC farm licences renewed in last minute reprieve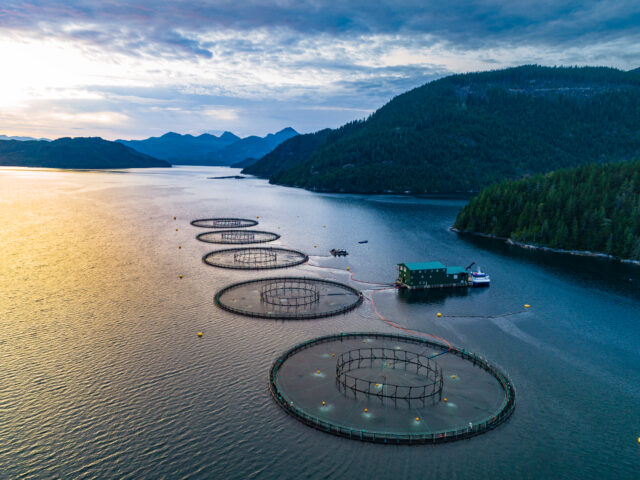 The Canadian federal government has given the go-ahead for open-net pen salmon aquaculture to continue for the next two years at 79 farms off the coast of British Columbia.
The decision, which comes just a few days before the existing licences expire on 30 June, only represents a stay of execution for the industry on Canada's west coast. The federal government said it remains committed to its pledge "to transition from open-net pen salmon aquaculture in British Columbia's coastal waters in a manner that protects wild salmon, the environment, and the economy."
A statement from Fisheries and Oceans Canada says it will share a draft framework for that transition in the coming weeks, and consultation will run until early 2023, with publication of the final plan expected next spring.
The department also said a separate consultation process is underway with First Nations and licence holders for 19 fish farms around the Discovery Islands, located along a key migration route for wild salmon between Vancouver Island and the BC mainland. Licences for the Discovery Islands farms are not being renewed.
Former Fisheries Minister Bernadette Jordan had ordered their closure in December 2020, but in April the Canadian Federal Court ruled that the government should set aside that decision, after an appeal from three of Norway's big salmon farming names, Mowi, Cermaq and Grieg.
They had applied for a judicial review against a decision preventing them from re-stocking their farms, claiming it lacked reason. The court ruled the order breached judicial fairness.
The current Fisheries Minister Joyce Murray said last night: "Wild Pacific salmon are an iconic keystone species in British Columbia that are facing historic threats.
"Our government is taking action to protect and return wild salmon to abundance and ensure Canada is a global leader in sustainable aquaculture."
She added: "Ottawa's transition plan for the aquaculture industry will include new technology, while reducing or eliminating interactions with wild Pacific salmon."