Automated identification of harmful algae blooms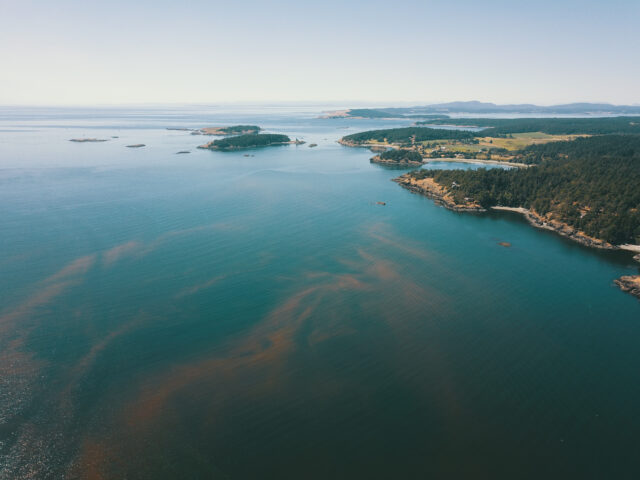 Early warning of algae blooms can make all the difference – and now artificial intelligence is helping to provide that
Harmful Algae Blooms (HABs) occur when microscopic algal or phytoplankton populations, amplified by environmental factors such as weather conditions and temperature, grow to such levels that they become harmful to surrounding life. These blooms can be particularly problematic for fish gill health and, with global temperatures rising, are becoming a more prevalent challenge for the global fish farming industry. In 2021, the reported cost of the required measures to treat fish and recover from a HAB was around £6m for a single fish farm.
Many producers are still using manual water quality sampling and microscopic analysis to monitor the formation of HABs, but sector experts agree that a greater focus on technology could hold the key to regular, real-time data collection and the development of early warning systems.
Since 2021, OTAQ Group has been working in partnership with Canadian machine learning specialists Blue Lion Labs to develop technology to directly address this challenge. As a result, the Live Plankton Analysis System (LPAS) has been created, with support from the Sustainable Aquaculture Innovation Centre (SAIC), CENSIS – Scotland's Innovation Centre for sensing, imaging and Internet of Things (IoT) technologies – and the University of Aberdeen.
Live Plankton Analysis System
LPAS automatically identifies potentially harmful phytoplankton species and their concentration levels suspended in the samples taken from water surrounding aquaculture sites with increased consistency and speed compared to the existing manual methods. The system is designed to be located and operate locally on site and notify operators if user-set safe-working criteria are exceeded, enabling users to make early and informed decisions on their site-specific mitigation strategy and actions.
LPAS has been designed with field use in mind, to be operable by existing farm operations teams, and takes into consideration the need to function on both well-connected and remote sites.
The LPAS solution consists of four main components:
• AI engine
• Imaging hardware
• Analysis & user interface software
• Connectivity & data storage
AI Engine
In order to rapidly detect phytoplankton in water samples, LPAS employs an artificial intelligence (AI) engine, developed with Blue Lion Labs, a Canadian machine learning company specialising in waterborne organisms. Given an image, the AI engine identifies target species of harmful phytoplankton and the quantity of each detected species, which is then converted into concentration levels by OTAQ's analysis software.
AI Engine Training
In order to achieve high confidence levels and consistency in the correct identification of individual phytoplankton species, multiple images of each target phytoplankton species are needed in order to train the AI engine. The greater the quantity, the better the accuracy. OTAQ, therefore, reached out to national laboratories in Canada and Scotland, as well as installed microscopes at over 40 trial partner marine farm sites in Scotland, Ireland, Chile and Australia in order to build an extensive database of images per species to achieve the necessary accuracy for the product prior to launch. The AI engine works on a continuous improvement model and so will continue to learn based on the images of existing and new species collected.
Imaging Hardware
The imaging hardware comprises a laboratory grade microscope combined with a high-resolution digital camera linked into a local LPAS Computer designed around the AI engine and surrounding software.
Stand-alone, reliable and easy-to-install and use, the imaging hardware enables the operator to quickly capture the digital images of local water samples and pass them to the analysis software.
Analysis and User Interface Software
Using the data from the AI engine, the local analysis software program and user interface generates on-site alerts for operators based on user defined parameters, alerting on the presence of specific species that are of concern in a particular region as well as alerting when acceptable concentration levels are exceeded. A clear traffic light system lets site operators know if there is an issue or not and they can they review more detailed data if required. All results are logged and stored, enabling the operator to record and track trends versus time per site.
Connectivity and Data Storage
Images and results data collected by LPAS are automatically stored locally and can also be uploaded to the OTAQ cloud.
LPAS can also be configured to suit the level of internet connectivity available on the site.
If high speed internet connection exists, the information generated by the software is uploaded to and synchronised with the OTAQ cloud web server. The cloud infrastructure centrally stores the site data with encrypted security and is readily accessible securely by the customer from any location.
For sites with low bandwidth or no internet connection, the information generated by the analysis software is stored locally and additionally copied to removable storage device.
A site or company specific application programming interface (API) can also be set up for direct connection of LPAS data uploads into customer databases, if the customer desires.
Quality Control and Support
The LPAS system is supported by OTAQ and Blue Lion Labs Biology and AI teams, conducting regular internal quality checks of the AI engine performance and providing continued customer support.
Summary 
LPAS provides an easy and reliable method to gather immediate and accurate information on potential HAB risks. It is anticipated that the system will be a powerful tool for fish farmers, enabling earlier decision-making and mitigation activity to minimise impact. LPAS is currently being readied for a Beta testing phase, with anticipated commercial launch later in 2023.
For further information please send enquiries to aquaculture@otaq.com