The June issue of Fish Farmer magazine is online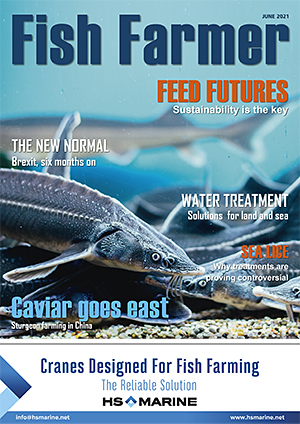 Caviar – the roe of the sturgeon – is a quintessentially Russian luxury food, but as we report in the June issue of Fish Farmer, the industry has moved eastwards.
Not only is China now consuming more and more of the stuff, but the country has become one of the world's leading producers of farmed sturgeon – fetching prices that salmon producers could only dream of.
You can find out more in the June issue of Fish Farmer, which is available online here.
Also in this issue, Sandy Neil looks at the impact of Brexit six months on, and finds that while some of the chaotic confusion and delays have been tackled, many of the problems that seafood businesses have been experiencing from January onwards are structural, not just "teething troubles".
The June magazine explores some of the latest developments in aquafeed, including the roll-out of a new Feed Standard by the Aquaculture Stewardship Council. Feed is not just one of the biggest costs for aquaculture, but also one of the most important aspects of sustainability in the industry. It is increasingly clear that producers absolutely have to be aware of the sustainability issues all along their supply chain, not just those parts of it for which they are directly responsible.
Two articles focus on different treatments for sea lice – Benchmark's CleanTreat and the heat treatment technique – which have each sparked a fierce debate over fish welfare and the environment.
This issue also features an interview with veteran RAS expert Ivar Warrer-Hansen, and reports from the Shellfish Association of Great Britain conference and the UK Aquaculture Sustainability Summit – which replaced the usual in-person get-together at Aviemore. No, we can't get away from sustainability!