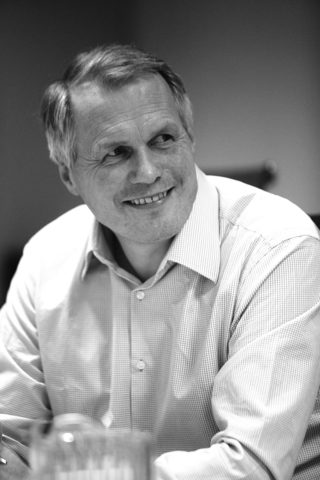 After the high drama around the NTS boardroom in recent weeks, no-one can say that fish farming is dull.
It has been a tale with more twists and turns than TV's media tycoon drama Succession – or an old Norse saga.
As in all such tales, one man came out on top. It was Gustav Witzøe, the enigmatic boss of SalMar who has captured the Norway Royal Salmon prize that eluded him six month earlier, even if he had to acquire the whole NTS Group to do so – and even though he now says he will step down as SalMar CEO.
Victory was finally called on 17 February, when SalMar announced it had an "irrevocable" majority of votes among NTS shareholders for its offer, despite an apparently more generous counter-offer from Mowi.
Witzøe is said to have started business life as a car salesman. Anyone who has tried to buy a car knows that the salesman usually wins. And so it was with Witzøe, who will soon own the northern hemisphere's second largest salmon farming business.
In 1991, Witzøe gave up selling cars and returned to his home community on Frøya to join what was then a fledgling industry – salmon farming.
The speed at which his business has grown has been little short of remarkable. Witzøe has carefully built up SalMar through a number of carefully planned acquisitions, mainly in Norway. Unlike Mowi, however, his ventures abroad have been relatively modest, including the acquisition of a half share in Scottish Sea Farms and the purchase of Arnarlax in Iceland.
His other big rival, the Norwegian industry magnate John Fredriksen, who created Mowi (originally as Marine Harvest) has been more adventurous with his overseas ambitions, moving into Canada, Chile, the Faroe Islands, Ireland and, of course, Scotland. While Fredriksen has remained relatively quiet over the battles for NTS, he will likely be disappointed at losing out.
As owner of the world's largest tanker fleet and with major interests in offshore drilling, Norwegian-born Fredriksen, who is now a citizen of Cyprus, clearly has bigger fish to fry.
SalMar's NOK 15bn (£1.25bn) deal to acquire NTS puts the company second behind the leader, Mowi, in the farmed salmon sector, although it is still some distance behind in terms of global production.
This year, thanks to the NTS acquisition, SalMar should increase its production by some 40%. The gap between SalMar and Mowi in Norwegian production could narrow considerably if the growth plans for NRS, already announced before the takeover, come to fruition over the next few years.
There is also a joint venture with Aker through the creation of SalMar Aker Ocean, set up to create a new force in aquaculture as the world's largest offshore salmon business. The project is still in its infancy, but it clearly is one with huge growth potential.
SalMar Aker Ocean has already completed two successful production cycles with the production facility Ocean Farm 1 in a weather-hardy, exposed area outside Trøndelag.
The experiences from this are now being built into a new and larger version, Ocean Farm 2, which is under development.
In less than three decades, Witzøe has turned SalMar into an aquaculture giant – with more yet to come.
In the long term, however, the NTS deal means he may have lost control of his own destiny. The nature of the takeover means the Witzøe family's shareholding in SalMar will be below 50%.
"We will never stand in the way of building something industrial," he told business news website e.24.no.
He will, of course, have his allies, but the ousting of Helge Gåsø last month from the board of the company he founded shows too cruelly that friendships count for little in business.
In the short term, the next year or so looks good for the salmon sector. Prices have been rising, and low supply growth coupled with strong consumer demand means they are likely to remain firm throughout 2022.
Nevertheless, the industry does face serious challenges in relation to costs, particularly with respect to the prices of oil, transport and feed, which are rising fast.
The deal means SalMar will own just over 16% of salmon production in Norway against Mowi's 19%.
However, there are growing concerns on the part of Norway's government that too much production is falling into too few hands as consolidation continues in the fish farming sector.
Together, the big four – Mowi, SalMar, Cermaq and Leroy – control more than half of total output. That doesn't include production from overseas operations such as Scotland, Canada and Chile.
Bjørnar Skjæran, Fisheries Minister in the Norwegian Government, has already indicated that he is watching the situation closely.
Without going into detail, he told industry news website nt.24 that the time may be coming when it is appropriate to put restrictions on ownership.
He said the government planned to review the future issuing to permits to ensure diversity and continued local control and participation.
Norway's new Labour Government is broadly happy with the way the industry is run and is content to maintain a hands-off approach. But it is also in a coalition and sometimes has to depend on minor parties further to the left to get some legislation through.
The desire to impose higher taxes, especially from the more left-leaning parties in the Storting, Norway's parliament, may be too much to resist especially now that companies are reporting strong increases in profits – and likely to get stronger if prices keep on rising.
Demands for tougher environmental curbs on salmon farming are also likely to grow, adding more onto costs.
Interesting times lie ahead for the expanded SalMar, but in yet another twist, Witzøe has now announced he is stepping down in favour of Linda L. Aase, who has been a member of the SalMar board since June 2020
Move over Hollywood!