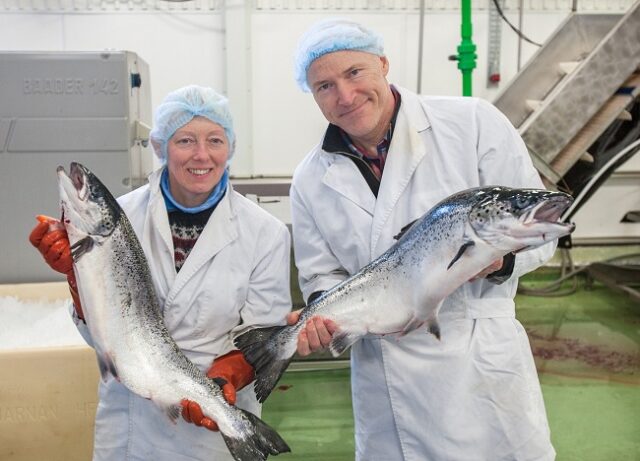 The Öxarfjörður region on the North East coast of Iceland, encircled by volcanic mountain ranges, is about as remote as a traveller to that country is likely to get.
The local community numbers fewer than 200 inhabitants. Sheep farming was the main activity until recently, but thanks to the expansion of an important salmon farming project by the seafood company Samherji, the area is coming back to life.
It is a perfect example of the role aquaculture is currently playing in reviving the economy of forgotten communities.
The company is spending two billion kroner, around £12m, expanding its nearby land-based fish farm at Silfurstjarnan. Underpinning the investment, Samherji has raised $26m (£21.3m) in a capital building exercise, and has appointed former Mowi CEO Alf-Helge Aarskog to its board of directors.
Investment in aquaculture in Iceland is moving ahead at pace although it is still some way behind rival countries such as Scotland and the Faroe Islands
Practical work at Silfurstjörn began at the end of January, taking production to about 3,000 tonnes per year.
Samherji says five new pots will be built, which will be about half the size of the largest existing pots. Some of the nearby land will also be used for environmental improvements such as land reclamation and forestry.
Local people are full of enthusiasm. lga Gísladóttir, who manages Silfurstjarnan's processing house said: "We are talking about an extensive project that has been in preparation for quite some time.
"About thirty people work here and with the expansion of the station, activity will increase and the number of jobs will also increase.
"The economy is based on food production, as conditions are favourable in many ways. The sparsely populated areas in Iceland have had to defend themselves; there are fewer people in many places and this applies to Öxarfjörður," she added.
Iga said she hoped the new jobs being created would help stop the drift of young people away from such communities: "What we are doing is increasing people's faith in the area."
The weather has improved during the last few weeks allowing activity to be stepped up.
Thomas Helmig, Samherji's Director of Aquaculture, says that the locals' knowledge of fish farming is extensive, and the expansion is in many ways a declaration of trust towards the staff and the district.
He adds: "This is a very exciting project and we are making great strides towards modernisation and automation."
Fish farming on the site began almost 30 years ago, he points out, so it is time to invest in improvements.
Helmig says: "With this expansion, operations will be more efficient in most ways and job security will increase.
"Aquaculture in the world has been growing rapidly in recent years and I do not expect anything like that to continue in the coming years.
"Here in Öxarfjörður, the conditions for land farming are good in many ways, so I am optimistic and full of anticipation.
There will be a lot going on here in the next few months and the plan is for the new pots to be taken into use next autumn. The sun rises in the sky in many ways."
This farm has been a leader in the farming of new species in Iceland, such as char and halibut, but in recent years the emphasis has been on continuing to produce salmon and char.
The facility, which includes a hatchery and salmon farm, is today one of the largest producers in the world of salmon raised on land. It is located in a geothermal area near the sea where there is good access to both fresh and ice-salt water and fully salted sea.
The slaughterhouse serving the farm is operated by Silfurstjörn, where slaughtering, processing and packaging of all the company's production takes place.
According to Statistics Iceland, the country harvested 53,000 tonnes of farmed fish last year, an increase of almost 25% or 12,500 tonnes.
Aquaculture now employs more than 600 people which is a lot in country with a population of 330,000. Income is estimated at around ISK 35 billion (£212m).
About 90% of all fish farming in Iceland is salmon farming, accounting for 46,458 tonnes last year. The char catch was 5,390 tonnes and the rainbow trout fishery was 951 tonnes.