Seafood Expo Global set to break records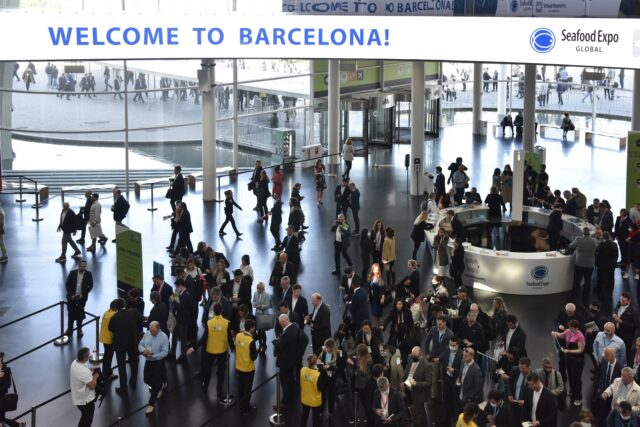 The 29th edition of Seafood Expo Global/Seafood Processing Global (SEG), which takes place in Barcelona this April, will be the trade show's biggest yet, the organisers have announced.
Liz Plizga, Vice-President of Diversified Communications, the company behind the event, said that in terms of exhibitor space, at 49,299m2, SEG 2023 will be 21% larger than the show's previous record, Brussels in 2019.
The 2023 expo represents a 24% increase in size compared with its Barcelona debut last year, when Covid travel restrictions meant that Chinese seafood businesses were not able to attend.
The 2023 edition will welcome 776 first-time exhibitors, among an expected total of more than 2,000 companies from 87 countries. The organisers expect to host 68 country and regional pavilions.
Seafood Expo Global will feature suppliers from across the world who will show their latest innovations in seafood: fresh, frozen, canned, value-added, processed and packaged. Seafood Processing Global will offer every aspect of seafood processing, including packaging material and machinery, equipment and supplies for refrigeration and freezing, primary and secondary processing equipment, hygiene control and sanitation and quality assurance services.
Liz Plizga said: "The event presents the industry with a valuable platform to conduct business on a global scale and provide a significant positive impact on the local economy.
"For three days, we will once again bring together industry buyers and suppliers from all corners of the world to build business relationships, find new products, equipment and service solutions, explore current trends, and engage in discussions about the immediate and future challenges for the seafood industry.
"The expansion of the Expo reaffirms the need for the seafood industry to meet in-person. It also confirms that the move to Barcelona and an innovative, contemporary venue was the right move for the Expo, providing more growth opportunities."
Seafood Expo Global/Seafood Processing Global takes place at the Fira Gran Via Barcelona over 25-27 April. For more information and to register, visit: www.seafoodexpo.com/global