Through the wind and the rain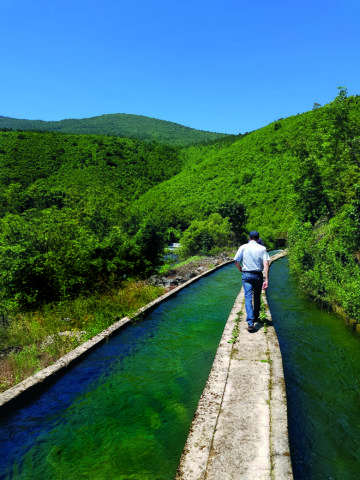 Optimising fish performance in severe conditions using nutrition
By Gijs Rutjes, Alltech Coppens.
Over the last few years, temperature swings and long drought periods were followed by brief periods of heavy rain. When subjected to these rapid changes in farming conditions, fish suffer severe stress.
Facing challenging conditions, like low water supply or water temperatures rising to unfavourable heights, can be difficult times for the fish and the farmer. Protein utilisation gives warmth, and that is what you want to decrease during these times. Keeping the stocks healthy and in good condition during these challenges accelerates the need for enhanced nutritional strategies that optimise the natural defence mechanisms of the fish. This is critically important, right from the beginning, as it helps to produce robust juvenile and adult fish with optimal flesh quality characteristics.
Aquate® is the second generation of sustainable product solutions and is incorporated in all Alltech Coppens feed. The solutions under this umbrella are based on proprietary yeast and organic mineral components.
Healthy and robust fish are more likely to perform to their maximum potential, and gut health plays a major role in this. Bio-Mos® supports the fish's defence and strengthens mucus barriers on skin, gills and gut. It also binds and removes many opportunistic bacteria and optimises the gut function.
Bio-Mos increases microvilli density and microvilli length in the gut, which means that the digestive function is optimised. Next to that, Bio-Mos results in a thicker mucus layer, which effectively acts as an exterior protection barrier. The gut contains a large proportion of an animal's immune system, and is where nutrients are absorbed and the gut microflora live. Gut health is essential in keeping fish healthy!
Maintaining a good gut health is part of the functionalities of the entire Aquate premix. It focuses on maximising growth and feed efficiency while supporting animal performance by promoting good gut structure and a healthy gut microflora, as well as supporting natural defences.
Primacy in research – innovation
In order to satisfy both the farmer's expectation of the highest quality feeds at the best prices and monitor raw material and formulation quality, Alltech Coppens does its research in a state-of-the-art research facility with multi-salinity recirculation aquaculture systems (RAS) capable of handling cold, temperate and warm-water species.
These research facilities allow the company to rigorously test their range of ingredients and feeds developed specifically for unfavourable circumstances on farms, all to assure fish health and productivity. Research produces tangible results that perfectly translate from the research centre to the farms operated by customers. The implementation of revolutionary feeding programs has enabled fish farmers to optimise fish health and performance while facing lower amounts of water and high temperatures.
For trout, Alltech Coppens has developed an extra option, a special feed with boosted nutritional health support. This innovation is based on scientific data, field tests and practical experience over several years. This special feed, called COFit®, provides extra health support, especially during stressful periods. COFit contains a significant higher level of Aquate and Vitamins for maximal health support. The other characteristics of the COFit feed, like its adapted DP/DE, subsequently preserve optimal protein utilisation for the best performance on-farm while decreasing heat production.
This last aspect is quite important, as it helps the fish to stay more comfortable under warm conditions when feeding is still possible. Under warm conditions, oxygen radicals are more easily formed, resulting in oxidative stress. During oxidative stress, cell structures can be damaged, compromising the fish's health, especially when such a period lasts. The normal oxidative capacity of the fish is generally not enough to cope with such a situation. It is, therefore, essential to provide extra oxidative capacity to the fish (i.e., by supplying extra selenium and vitamin C, as these have radical quenching properties).
Other important aspects of COFit are its increased EPA + DHA level and the inclusion of a prebiotic, both further supporting health and robustness of the fish. EPA and DHA are well known essential fatty acids that are required for many body functions, like immune defence and heart and brain development. The prebiotic further aids in creating and maintaining a beneficial gut flora and works in synergy with Bio-Mos.
COFit is a well-balanced, health-supporting trout feed that is nutritionally adapted for stressful situations like exceptionally long periods of drought, resulting in water shortage; brief periods of heavy rain (spring through to autumn); extreme water temperatures and fluctuating oxygen levels.
COFit is the ultimate nutritional solution to optimise the performance of trout when facing challenging conditions.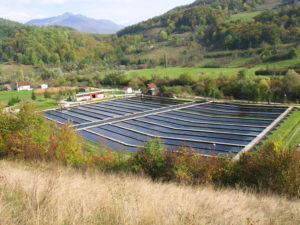 Above: Challenging conditions for trout farming during hot summer days
Featured image:  Alltech Coppens on-farm support, checking the incoming water supply in a drought