Young's adds a touch of spice to salmon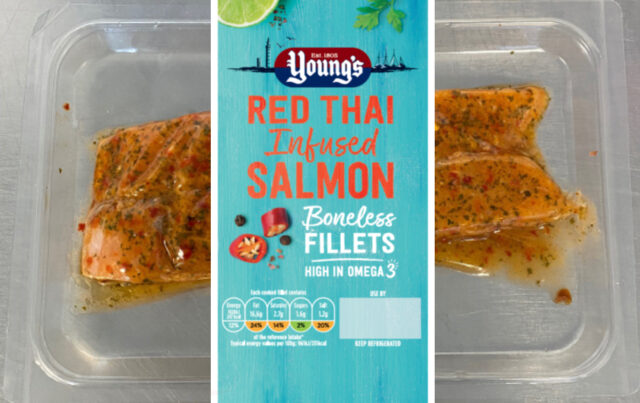 Young's Seafood is bringing a touch of Asian spice to salmon. The company has introduced a new product to its chilled range with the launch of its "Red Thai Infused Salmon".
The new launch comes as Young's reports sales of salmon have been soaring.
Launched in Asda, the salmon comes in a Thai marinade infused with flavours of garlic, paprika, chilli, coconut milk, lemongrass, coriander and parsley.
The 220g pack contains two boneless fillets which can be cooked in the oven in just 21 minutes and are high in omega 3.
The innovative product was developed as the Grimsby-based company revealed an £88m increase in salmon sales, up 25%, over the past 12 months.
Research by Young's also showed that 70% of shoppers are seeking inspiration when cooking fish with Asian and Oriental flavours are some of the most popular for seafood dishes.
It says the Red Thai marinade now gives a modern twist to the more well-known eastern inspired flavours such as sweet chilli.
Kay Woods, buyer at Asda said: "Salmon is one of the favourite fish species for our shoppers, so we are excited to have introduced this Red Thai Infused product, giving our customers a new option to suit different types of meals at home."
Marina Richardson, marketing controller at Young's Seafood said: "This new product gives shoppers yet another way to enjoy delicious, healthy salmon. Over the past year we've seen shoppers eating at home more often, and the Red Thai Infused Salmon works well as it can satisfy both lunch time and evening meal occasions.
"Investment into NPD at Young's is a key priority for us as we continue to drive the market across chilled and frozen, and this latest launch is another great demonstration of our industry-leading innovation."
The Red Thai Infused Salmon is available in Asda and retails at £3.50.