200 jobs saved as Iceland Seafood opts to stay in UK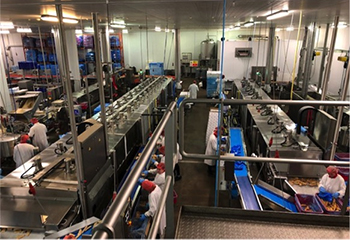 Iceland Seafood International (ISI) is to continue operating in the UK and has shelved plans to sell its Grimsby processing centre.
The ISI directors said that the performance of the company's UK operations had improved since the first closure announcement in November. They also said the current state of the sector meant that ISI's efforts to sell the business had not attracted an offer that they felt was sufficiently attractive.
The news will come as a huge relief to the nearly 200 people who work at the site and were fearing for their jobs until today.
Shortly before Christmas ISI received two letters of intent from would-be purchasers for the Grimsby site, but in the end negotiations failed to reach a deal.
The company statement said: "After careful considerations the board of Iceland Seafood has decided to put the sale process on hold and continue to operate the UK subsidiary.
"In an industry where consolidation is needed, Iceland Seafood made it public late last year it was interested in selling the UK business. It is however the conclusion of the board of Directors that the proposals received didn't reflect the value of the company, as external conditions for the industry have been challenging.
"Recently, Iceland Seafood UK (IS UK) has made significant progress with its strategic partners recovering unprecedented inflationary cost and adding a significant new business. Therefore, the company foresees better results, driven by the above, in addition to returns on investments in equipment, that will increase its ability to grow and reduce unit costs."
ISI added: "Markets are stabilising, after the high volatility and constant upward cost pressure experienced throughout last year, which severely impacted the results of IS UK in 2022.
"IS UK will continue to cooperate closely with its loyal customers and suppliers. Iceland Seafood will review its strategy on an ongoing basis and remains interested to support further consolidation of the UK business at the right time and terms."