Young's paid Pinneys staff £7.7 million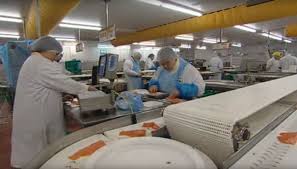 YOUNG'S Seafood spent more than £7 million on redundancy payments to the 450 staff who worked at its Pinneys salmon site in Annan, the company's annual report has revealed.
The factory closed amid controversy last year after the company decided to move salmon production to Grimsby and abandon the manufacture of some loss making items.
The report shows that closing the site cost Young's just over £11 million, of which £7.7 million were redundancy pay-outs.
This represents an average of around £17,000 per employee, but as payments are calculated on length of service and seniority it means individual settlements will vary considerably.
The remaining £2.7 million relates to the cost of transferring production to Grimsby, disruption to production during the move and expenses associated with stock write-downs.
Young's, which continues to employ 2,500 people across seven core sites in Grimsby and Scotland, has just reported an impressive increases in turnover and operating profits in the financial year to the end of September 2018.
But it has also warned that significant risks lie ahead, not least from intense competition and the impact of Brexit, especially if the UK leaves without a deal this autumn.
Young's strategic report said: 'The company is heavily dependent on the availability of seafood, which can be affected by natural and other factors.
'Young's is mitigating this risk by selling a broad range of products using many species from several countries.'
On Brexit, the report said: 'Young's (will be) exposed to a number of risks if the UK leaves the EU without a deal.
'These include labour supply, import processing at the ports and duties and tariffs. Should the UK move to WTO (World Trade Organisation) terms, this would impact on the amount of duties paid by Young's and other seafood companies, causing inflationary pressures.
'Young's is working closely with the Seafood Industry Authority (Seafish) to make the government aware of the impact on seafood processing and fishing.
'If there is a deal, the impact on the company should be limited to movements in foreign exchange rates.'
Around three quarters of Young's 2,500 strong workforce are UK citizens, with the remainder mainly EU nationals.
The company said it was working closely with its EU staff to explain the situation and to support their settlement in the UK.
A breakdown of the company's sales shows that almost £536 million came from UK consumers (£519 million in 2017), while sales to the United States totalled just over £4 million. Sales to the rest of Europe came to nearly £5.8 million.