WiSA award for global aquaculture researcher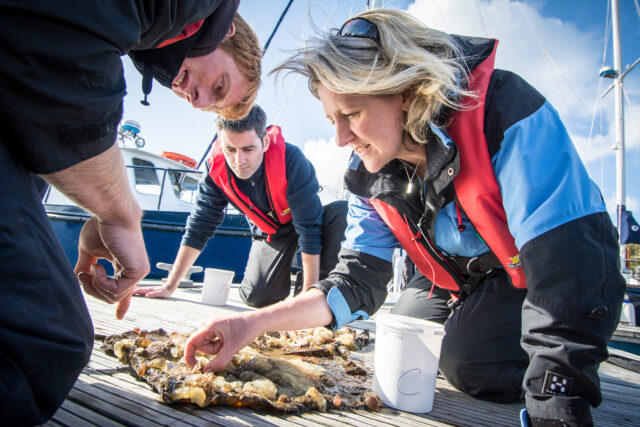 Marine biologist Professor Elizabeth Cottier-Cook has been presented with an Outstanding Contribution award by Women in Scottish Aquaculture (WiSA) in recognition of her teaching in aquaculture and her research contribution to the global seaweed industry.
There were also awards for individuals at Mowi, Bakkafrost and Heriot-Watt University.
Professor Cottier-Cook of the Scottish Association for Marine Science (SAMS), a partner of UHI (University of the Highlands and Islands) received her award in recognition of her teaching in aquaculture and her research contribution to the global seaweed industry.
She played a key role in establishing the Erasmus Mundus Joint Master's Degree ACES-STAR, which  teaches all aspects of aquaculture and allows international students to learn at centres in Oban, Crete and Nantes. The Master's Degree has awarded 126 scholarships to EU and international students since 2015, giving talented students from developing nations access to first-class academic teaching.
Professor Cottier-Cook has also been principal investigator on the five-year Global Seaweed STAR programme, which was funded by UK Research and Innovation's Global Challenges Research Fund and ended in 2022. The aim of the programme was to combine UK expertise in taxonomy, genetics and disease management with the knowledge and practical experience of seaweed farming in Africa and Asia to help safeguard the expanding global seaweed industry.
Seaweed farming is an important employer in many developing nations and is particularly key to empowering women, who make up the majority of seaweed farmers globally.
Along with the United Nations University and partners in the UK, Tanzania, Malaysia and the Philippines, Prof Cottier-Cook published an international policy brief that made recommendations on improving biosecurity and how best to protect the industry from the effects of climate change.
Prof Cottier-Cook said: "It was such a surprise to be told I had won the Outstanding Contribution Award, but I am also extremely honoured. It is important to celebrate the success of women in any STEM field.
"There is an increasing number of women working in aquaculture and it is interesting to note that in the eight years of our ACES Joint Master's Degree, women have made up roughly two-thirds of our students.
"Our GlobalSeaweedSTAR programme included some of the leading seaweed researchers in the world and all of the work package leaders were women. Considering many women are involved in the seaweed industry, it was nice to be able to reflect that in our research team."
Also at the awards, Ingrid Kelling, Chair of the Marine Alliance for Science and Technology for Scotland (MASTS) and Assistant Professor at Heriot-Watt University, was named academic champion of the year. In 2022, she helped to shine a light on gender issues as part of the MASTS annual conference and by co-authoring a report on diversity in Scottish aquaculture.
Donald Waring, Learning and Development Manager at Mowi, was named ally of the year, with the panel recognising his efforts to provide practical support and encouragement to WiSA members, including taking part in the group's successful mentoring scheme.
Charlotte Bolton, Freshwater Optimiser at Bakkafrost Scotland, was also named rising star of the year, while Connie Patillo, Western Isles Area Manager for Mowi, was the winner of the role model of the year award.
The WiSA network – which was founded by the Sustainable Aquaculture Innovation Centre (SAIC) on International Women's Day 2019 – represents all areas of the sector from producers and the supply chain to academia, and continues to champion the diverse range of career opportunities for women in aquaculture.
Women in Scottish Aquaculture (WiSA) exists to introduce more women into aquaculture, and support those already working in the sector.
Heather Jones, CEO of SAIC, said: "These awards provide a great opportunity to celebrate the important role that women play across the aquaculture sector and all recipients are well deserving of the recognition. WiSA was established as a network where women can support one another in a typically male-dominated sector and, four years later, our focus remains on raising awareness of the societal and commercial benefits that come from a diverse workforce, fairly offering opportunities for all."
Article updated 9 March 2023