Veramaris algal oil wins 'fish free' challenge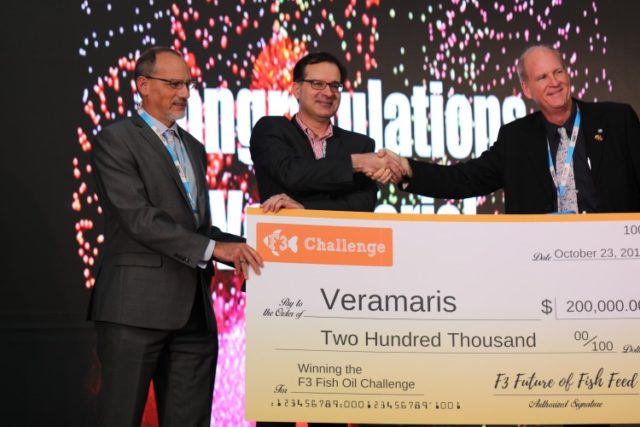 A NATURAL marine algal oil has been named the world's best-selling alternative source of omega-3 for aquaculture.
US based Veramaris won the Future of Fish Feed (F3) Challenge after selling more fish free omega-3 EPA & DHA and ARA than other aquaculture ingredient suppliers.
The company paid tribute to Norwegian salmon farmers for rapidly adopting its algal oil. Salmon farmer Mowi, Yuehai Feed Group and AlphaFeed have committed to use the oil in new trial feeds.
'I have to thank those courageous leaders along the entire value chain for their collaboration and for taking significant steps to ensure a continued sustainable future for aquaculture,' said Veramaris CEO Karim Kurmaly during the award ceremony, which took place yesterday at Global Aquaculture's Alliance GOAL conference in Chennai, India.
The F3 Fish Oil Challenge is a $200,000 prize to accelerate commercial scale adoption of alternative feed ingredients that reduce the industry's reliance on wild caught fish.
According to F3 calculations, the EPA, DHA, and ARA volumes sold by Veramaris are equivalent to nearly 90 per cent of the two billion fish conserved through the challenge.
The Veramaris volumes were predominantly produced at two pilot facilities in Slovakia and the US.
The company, founded by DSM and Evonik, opened a new facility in Blair, Nebraska, in the summer, scaling up production to meet demand.
Veramaris said capacity at the Blair site can cover 15 per cent of the global salmon industry's requirement for essential fatty acids, provided until now by marine sources.
The Future of Fish Feed was launched in 2015 as a collaborative effort by NGOs, researchers, and private partnerships to accelerate the commercialisation of aquaculture innovations to alleviate pressure on the oceans.
The F3 Challenge is sponsored by the University of Arizona, University of Massachusetts Boston, Cuna del Mar, Synbiobeta, Anthropocene Institute, Dawson Family Fund, Sustainable Ocean Alliance, the Nature Conservancy, the Campbell Foundation, Tides Foundation, and the National Renderers Association.