Undercover video claims are disputed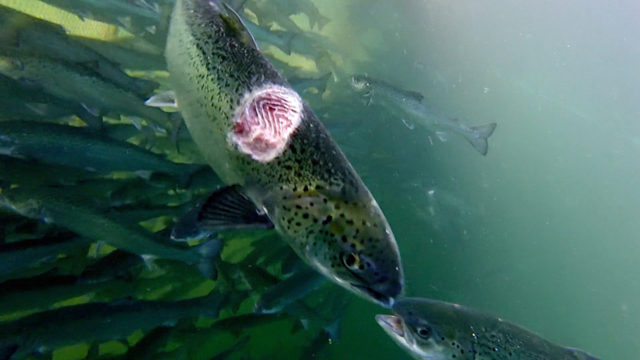 Fish wounds filmed by an animal rights activist were caused by seal attacks, according to the welfare chief at Scottish Sea Farms, which operates the site in question.
The salmon farmer was responding to a complaint brought by Scottish Salmon Watch, which has published covertly filmed video and still images which appear to show fin damage and other wounds on live fish at the Scottish Sea Farms (SSF) site at Loch Spelve, near Dalnaha on the coast of Mull. The campaigners say they filmed on the evening of 7 May at two cages, at a depth of less than three metres.
Scottish Salmon Watch has brought a formal complaint for breaches of the Animal Health and Welfare (Scotland) Act 2006, and has contacted the Animal & Plant Health Agency, Police Scotland's Wildlife Crime Unit and the Scottish Government's Fish Health Inspectorate.
The complaint states; "Video footage clearly shows fin damage, skin lesions, open wounds (which may be Winter Ulcer), mouth rot, lice infestation and indicates welfare and disease problems."
A short video clip released by Scottish Salmon Watch shows damaged individuals swimming alongside what appear to be healthy fish.
Don Staniford, Director of Scottish Salmon Watch, said: "Rest assured that RSPCA accreditation of Scottish salmon as 'welfare-friendly' is a sham, scam and consumer con. Video evidence shot last week and last year at RSPCA Assured salmon farms across Scotland exposes endemic welfare abuse, disease problems and mass mortalities."
SSF strongly denies that the damage filmed is the result of untreated disease or parasites. Head of Fish Health and Welfare for the company, Dr Ralph Bickerdike, said: "Contrary to the claims being made, the footage clearly depicts the damage that seals can cause to fish, in much the same way that foxes can harm or kill chickens or lambs for example.
"Our farm teams are vigilant to presence of any damage caused to our salmon, removing affected fish as swiftly as possible and ensuring they are dispatched quickly and humanely in the interest of high animal welfare."
Fish farmers in Scotland have been banned from shooting seals even as a last resort, since 31 January, and restrictions are also now in force regarding the type of acoustic deterrent devices (ADDs) that may be used to keep seals away from pens
The Loch Spelve site supplies M&S with Lochmuir brand salmon and is subject to inspections by RSPCA Assured, a not for profit arm of animal welfare body RSPCA. A spokesperson for RSPCA Assured said yesterday: "We are very concerned by some of this footage and have suspended the farm whilst we urgently investigate."
A Scottish Government spokesperson said: "A fish welfare complaint received by a number of agencies will be investigated by the Animal and Plant Health Agency (APHA).
"A member of the Fish Health Inspectorate will be in attendance at a site visit to examine the fish health aspects of the case.
"Our 10-year Farmed Fish Health Framework aims to significantly improve the health of farmed fish in Scotland and should lead to a significant reduction in mortality.
"The Framework commits industry, government, vets, trade associations and Scotland's Aquaculture Innovation Centre to work together to provide a strategic, evidence-based approach to the short- and long-term improvement of fish health in Scotland."