UK and Norwegian ministers meet at Aqua Nor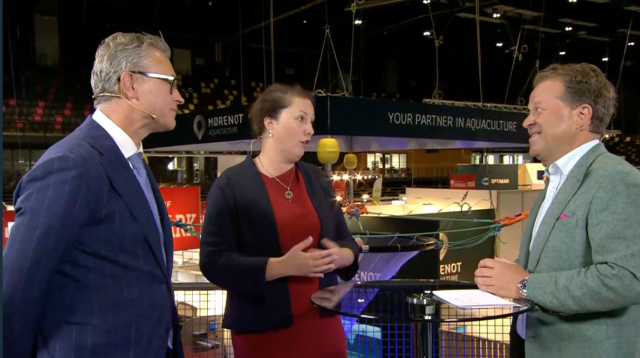 Trade in seafood was on the agenda when leading politicians and industry leaders from Norway and the UK met at Aqua Nor today.
The event, held in Trondheim, is one of the aquaculture industry's biggest trade shows, and this week it provided the venue for Norway's Fisheries Minister Odd Emil Ingebrigtsen to meet with the UK Government's Victoria Prentis, Under-Secretary for Agriculture, Fisheries and Food.
The two ministers discussed bilateral agreements between the two countries, particularly in relation to seafood, in the first face to face meeting they had had with each other after many months of negotiations – handled remotely – in the run up to the UK-Norwegian free trade agreement struck earlier this year.
They said Norway and the UK were close neighbours and shared many of  the same views on the sustainable management of fish stocks, and they pledged to build on that relationship. At the meeting, the ministers also discussed the forthcoming requirements for a health certificate when exporting seafood from Norway to the UK.
In addition to the need for good digital solutions, the issue  entails more than a few  challenges for seafood trade logistics.
The two ministers said that if the parties can enter into a constructive dialogue at a technical level, they believe any outstanding issues can be resolved.
Speaking at the opening of the Aqua Nor trade show, Victoria Prentis said this year's agreement between the UK and Norway had benefitted – among others – Norwegian producers and UK-based processors and aquafeed manufacturers.
She noted that Norwegian fish farmers has invested in the salmon industry in Scotland, but added that there are also opportunities to invest in aquaculture elsewhere in UK  particularly in the seaweed and shellfish sectors in Devon and Cornwall.
Prentis also met the leaders of Seafood Norway over issues such as future veterinary border controls between the two countries, which changed after Britain left the EU. The British Ambassador to Norway, Richard Wood, also took part in the talks.
New regulations will be introduced that could greatly affect trade in fresh seafood, including salmon. Seafood leaders are worried that this this could create new barriers, so work is now going on to try to find answers  to what could easily become a problem.
Victoria Prentis said afterwards: "It was a pleasure to visit Norway and meet with Minister Ingebrigtsen to build on the strong partnership that exists between our nations on fisheries, trade and energy.
"While we agree on many issues, there are fisheries management issues where we have differences. However, the strength of our relationship means that we can discuss areas of disagreement maturely and constructively.
"The UK and Norway have much in common as independent coastal states, and with increased investment in our vibrant aquaculture industries we are both key producers of sustainable seafood."