Tributes to former Northwards boss Murray Prentice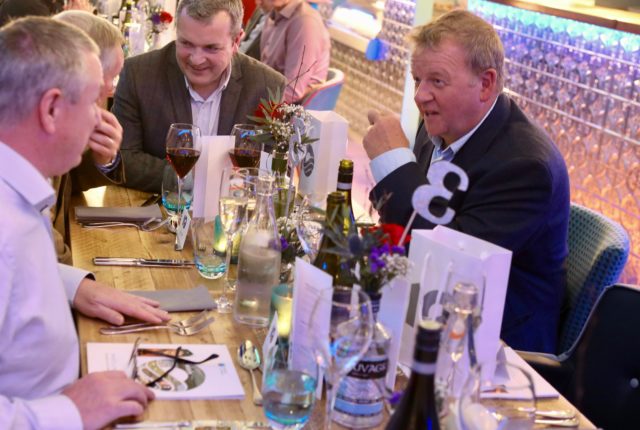 TRIBUTES have been paid to Murray Prentice, the former managing director of haulage firm Northwards, who died on February 2 after a short illness. He was 60.
Northwards, a logistics company with bases in Lerwick and Kirkwall in the Northern Isles, as well as in Aberdeen, Glasgow, Inverness and Scrabster, has long put aquaculture at the heart of its business.
Prentice joined the company in 2012 and was instrumental in developing its links with salmon farmers. Under his leadership, Northwards, together with Scottish Sea Farms, set up a novel system to improve efficiencies.
The two companies, for the first time, combined the fresh salmon being harvested and packed for the market heading south and the feed heading north to the islands.
Using 'insuliner' curtain sided trailers fitted with state of the art chill units, rather than rigid trailers, fresh salmon could be delivered to the central belt, and feed then returned on the empty trailers.
Today, Northwards transports about 70,000 tonnes of salmon feed a year to Orkney and Shetland, and moves harvested salmon from both Orkney and Shetland down to the mainland for onward distribution.
The success of the initiative was in large part due to Prentice's 'lateral, strategic thinking, coupled with a quietly determined streak', said Scottish Sea Farms operations coordinator Ewan Mackintosh.
'His openness, terrific sense of humour and well known integrity were part of his armoury, which allowed him to make this all work,' Mackintosh added.
With Prentice at the helm, the company won several awards, including three in 2016 alone – for Rural Haulier of the Year, Scottish & Irish Haulier of the Year, and a Gold Award (for the second year in a row) for service excellence.
Prior to joining Northwards, Prentice, an accountant by trade, owned JBT (formerly Jim Brackenridge Transport), which he sold to MRS Distribution in 2008.
At this point, he took time away from transport and worked as a consultant specialising in business turnaround. He was at Northwards from 2012 until retiring in early 2019.
His plans for retirement included travelling around Europe in a campervan with his wife, Lorraine, and last year they visited Ireland, France, Italy, Slovenia, Spain and Portugal. According to Mackintosh, Prentice 'was living the dream'.
'One of the many highlights was to be his 60th birthday celebrations in Croatia in September 2019, to which he had invited one or two people, which turned into several couples.
'He told me eleven couples were going, together with his family, but knowing Murray's popularity, it was probably even more.'
His celebrations were cut short when he was diagnosed with oesophageal cancer towards the end of summer. He died peacefully at the Marie Curie Hospice in Edinburgh on February 2, surrounded by his family.
Jim Gallagher, managing director of Scottish Sea Farms, said: 'Murray was a truly special man in both business and on a personal level.
'He had the uncanny ability and humility to treat everyone the way you would expect to be treated yourself. I would say we started our relationship through business but we soon came to build a special friendship and I am honoured to have had Murray as my friend.
'He will be sadly missed by all; he truly was one of the good guys that you meet in life.'
Ruth Henderson of Seafood Shetland said: 'Murray was a very kind and sincere fellow and I knew him from my very early days of being based in Shetland's Seafood Centre, Stewart Building in Lerwick.
'He was so knowledgeable and always willing to take the time to explain the ins and outs of haulage and ferries to me, providing great support over many years to our member companies and all those involved in our transport working group.
'He was a most gracious and patient man and we are all diminished by his passing.'
A service will be held at Mortonhall Crematorium, Main Chapel, tomorrow, February 13, at 2 pm, to which all friends are invited. The theme is maroon, in honour of Prentice's beloved Hearts.