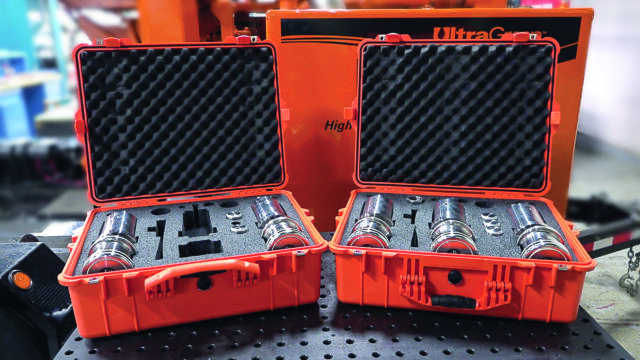 A new high-pressure water jet pump for aquaculture net cleaning — the NLB AQ3250 — introduces several new features that enhance performance and reliability, with more resistance than ever to saltwater corrosion. It provides users with a flow of 400 lpm (106 gpm) at 207 bar (3,000 psi).
In aquaculture, pumps play a key role in controlling the buildup of marine organisms and algae, maintaining good water flow as well as a healthy environment for fish. Heavy buildup weighs down the nets and makes them less effective at keeping fish in and predators out. Keeping nets clean is therefore a full-time job for these pumps (often 12 hours a day, seven days a week), and users cannot afford breakdowns.
NLB pumps have set the standard for reliability for over 50 years, with a slow-running design that minimises wear on key components. When operating conditions expose them to saltwater, corrosion becomes a major concern. The NLB pumps used in aquaculture applications — the Series 205, 305, 405, and 505 — have always had stainless-steel or galvanized components and a removable aluminium enclosure to shield the pump from the sea air. Each of these units provides trouble-free performance with minimal maintenance and comes mounted on a galvanised steel skid.
While the new NLB AQ3250 has all these features, it takes corrosion resistance to a new level.
Several innovations set the AQ3250 apart, beginning with plungers made of ceramic instead of stainless steel. Since ceramic's chemical bonds are already oxidized, further oxidation — and, more importantly, the corrosion it causes — is very rare. The hardness of this ceramic is another advantage. Its six-micron finish significantly reduces plunger wear, maintaining smoothness and extending the life of the packing.
These ceramic plungers have been shown to perform just like those made of stainless steel, and require less frequent maintenance. They are water-cooled in sealed packing cartridges to keep water out of the plunger well and reduce salt build-up on the subshafts. This means less scraping of the oil seals, which in turn keeps oil from seeping out.
NLB further simplifies (and speeds up) maintenance with a handy kit containing all the parts needed to rebuild the pump's fluid cylinder. While every pump user knows that a fluid cylinder needs rebuilding after many hours of use, with this kit on board the job can be done without returning to port.
Other new features of the AQ3250 pump contribute to reliable performance. A discharge accumulator buffers the pressure of the high-pressure water, assuring a smooth flow through the hose to the cleaning head. A suction stabiliser at the suction manifold port keeps a steady supply of water available to the pump.
The footprint of the AQ3250 is fairly modest (2,565 mm/8.4 ft x 1,525 mm/5 ft × 1,730 mm/5.7 ft — 2,015 mm/6.6 ft) to the top of the exhaust) and its weight (3,000 kg/6,614 lbs)) minimises the load on the ship's deck. The pump's powerful, seven-litre engine is surprisingly economical, with a fuel consumption of 39 litres/10.30 gallons) per hour. It also features convenient external priming ports.
Like other NLB pumps, the AQ3250 can easily be integrated with many existing net cleaning head systems. An optional hydraulic package is available for units that deliver high-pressure water to hydraulically operated cleaning systems.
Spare parts, service, and training for the AQ3250 and other NLB pumps are readily available to European customers at the company's branch location in northern England.
Located in Darlington, a little over 30 miles south of Newcastle upon Tyne, and just off the A66 and the A1(M) motorway, this 2,000-square-metre facility houses a number of NLB pump units for sale or rent. It also has dedicated space for customer training sessions and water jet demonstrations for a range of applications. Roll-up doors make it easy for customers to bring in their units for service.
The branch can be found at Lingfield Way, Yarm Road Industrial Estate, Darlington, DL1 4GD. Key personnel include Sales Director Dan Galley and Service/Technical Supervisor Grzegorz (Greg) Muszynski.
Speedy access to service and spare parts is especially important for companies involved in net cleaning, who typically run their pumps nearly every day and must avoid downtime. NLB customers, like Trevor Schiele of Badinotti Services Canada Ltd., depend on that support as much as they depend on their pumps.
"NLB's simple design and simple components let us repair in a timely manner," he says. "A cost/benefit analysis showed we could reduce pump maintenance and repair costs by about 50% with an NLB pump."
That dependability is a big advantage for Badinotti, and for everyone using NLB pumps to keep nets clean. And as reliable as NLB aquaculture pump units have always been, the new AQ3250 — with ceramic plungers and all its other innovations — is raising the bar for performance and reliability.