Thirteen finalists revealed for innovation showcase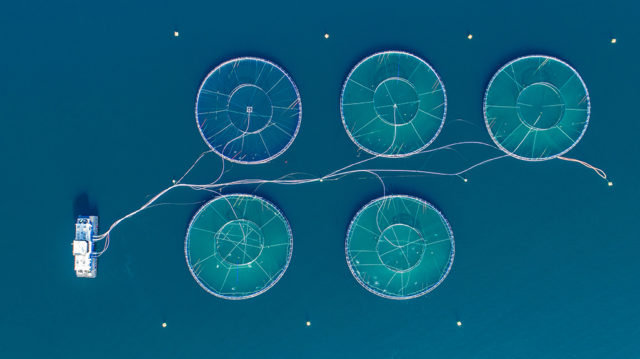 The finalists for the 2019 Aquaculture Innovation Europe showcase have been revealed.
The event takes place on 10-11 September in London, as Kisaco Research has announced the 13 companies selected to present at the 2019 Aquaculture Innovation Innovation Showcase.
A spokesman said: 'The applications have been read, the votes have been counted and the final thirteen innovators who will be showcasing their disruptive aquaculture technologies on the main stage at the Aquaculture Innovation Summit have been chosen.
'We are thrilled to announce that the start-ups shortlisted by our prestigious Selection Committee.'
They are:
Rajamanohar Somasundaram, Co-Founder and CEO, Aquaconnect. He said: 'The shrimp farming industry loses billions of dollars every year due to wide spread disease and inferior feed conversation. Our app FarmMOJO provides AI based advisory service to aqua farmers to
predict diseases and follow better management practices in farm operations to increase farm income up to 5-10%.'
Nissim Chen, CEO, AquiNovo Ltd. AquiNovo's non-GMO, non-hormonal feed additives address aquaculture key challenge: sustainable boost of fish yield. AquiNovo additives increase yields whilst improving conversion of
feed to biomass (FCR ratio). Value proposition for fish farms include increased profit due to higher yields and lower production cost.
Ole Andreas Moum Lo, CTO, CFEED AS. CFEED is a biotechnology company supplying feed products globally
to the aquaculture and aquarium market with unique feed solutions for marine fish and crustaceans. The Company is located close to Trondheim in Norway and currently has 13 employees. CFEED is operative and rapidly penetrating the market with a monthly operating income in the company.
Flavie Gohin, CEO, Fishency Innovation AS. She said: 'Sea lice is the biggest challenge of the fish farming industry in Norway. The industry needs a digital system that can continously count sea lice on the salmon, without handling, on a large and representative sample. The farmer will need a better knowledge of the sea lice infection in each cage and treat only when it is needed. We enable the farmer to be proactive rather than reactive.'
Benjamin Renquist, Chief Scientific Officer, GenetiRate, Inc. GenetiRate is a research driven company that delivers superior customer service while improving genetic selection for growth and providing their customers with the first test that allows for selection to improve feed efficiency.
Ron Shavit, Business Development & Marketing, GO Smart – Precision Farming. GOSmart BioCam provides the Mariculture industry with the necessary data to optimize feeding, improve FCR and fish growth performance while reducing feed waste, money loss and labour costs for the farmer, addressing the unmet need for precise continuous measurement and tracking means to do so.
Christophe Vasseur, CEO and Co-Founder, inalve. The population will reach 9 billion by 2050. Global protein need is booming. The world fishmeal need will triple by 2050. Inalve provides feed manufacturers with a sustainable alternative; microalgae. Using patented technologies inalve develops premium algaemeal to feed animals naturally.
Eirik Talhaug, Co-founder, Board Member and CEO, JET Seafood AS. He said: 'Today's seafood markets are plagued by inefficient product trading and lacking both transparency and liquidity. Trading is today done by email, Skype and phone which are manual one-to-one tools. This is both costly and time consuming and severely limits the number of possible counter parties a company can reach. JET Seafood owns and operates seafoodportal.com – a B2B marketplace, which will significantly improve several of these challenges.'
Christopher Oakes, VP Business Development Director Product Marketing, NovoNutrients. NovoNutrients uses a proprietary gas fermentation process that transforms a blend of CO2 from untreated industrial emissions and H2 into a single cell protein aquafeed: Novomeal. The key to the process is their patent-pending framework for defined microbial consortia that grows on that CO2/H2 mix.
Hemang Rishi, Co-founder and CEO, Observe Technologies. He said: 'We use artificial intelligence (AI) to give actionable insights to optimise the biggest costs on fish farms: from feeding to health. Our recommendations have been developed with farmers globally. By monitoring any deviations and abnormalities, our product help manage fish farm sites more efficiently, minimize feed waste and increase profits.'
Ofra Chen, Vice President R&D, TransAlgae. TransAlgae has developed an algae-based platform for oral delivery of pharmaceuticals for aquaculture. The TransAlgae platform enables the introduction of protein drugs,
such as vaccines, immune- modulators etc. into algae and to deliver them orally to the target animal, through feed, replacing the need for injections.
Tiago Cristóvão, Co-Founder and COO, UNDERSEE. UNDERSEE solution allows users to monitor water quality without dealing with sensors maintenance. They provide an endto-end service with an integrated offering of hardware, software, installation, maintenance and customer support, based on a Connected Product-as-a-Service model where customers subscribe for the usage of the product (data-based fee) and automated decision-making tools.
Evan Hall, CEO, Wittaya Aqua International Inc. The Wittaya AquaOp platform is a cloud-based farm management
platform that helps farms manage their operations. Farmers can use the platform to track, visualize and analyse every aspect of their operations; this helps them run their farm more efficiently, profitably and sustainably.
The Aquaculture Innovation Summit is committed to bringing innovative and inspiring emerging companies together with partners looking to acquire and invest.
For more details on how to attend, click HERE.