The January 2021 issue of Fish Farmer is online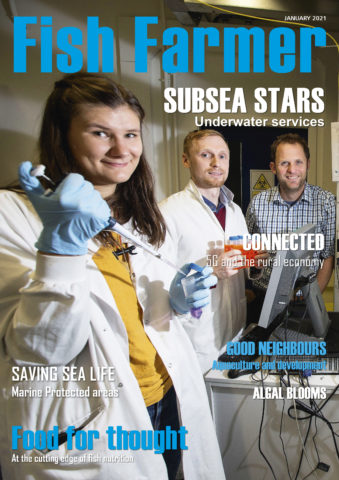 The January issue of Fish Farmer magazine is out now and you can view the online version here. This issue includes a look at some of the ideas at the cutting edge in fish nutrition; an examination of the growth in marine protected areas and what it means for sea life and for the industries that are part of the "blue economy"; and a case study that shows how aquaculture can help bring prosperity to some of the world's poorest and most remote communities.
You can read about how the latest technology is being applied in aquaculture, including the use of satellites to detect algal blooms, and an initiative trialling 5G telecommunications applications that benefit the rural economy in Dorset.
Dr Martin Jaffa critically examines the English Aquaculture Strategy and suggests an alternative; Nicki Holmyard reports on multi-trophic approaches to farming shellfish and other species; and Nick Joy and the SSPO's Hamish MacDonell each look forward to the coming year.
All these and your monthly round-up of industry news, product launches and other features are in the latest issue.