The February issue of Fish Farmer is online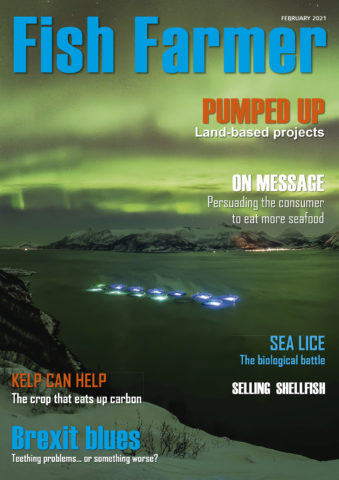 The February issue of Fish Farmer magazine is out now and you can view the online version here.
This issue of Fish Farmer is, somewhat inevitably, dominated by Brexit. What does the new relationship between the UK and the European Union mean for aquaculture?
In this magazine we hear from the Scottish Salmon Producers Organisation on the importance of reliable trade for its members, and Sandy Neil looks at how the first few weeks of this year worked out for sector, as exporters battled with fresh paperwork, IT glitches and the continuing challenges of the Covid-19 pandemic.
Nicki Holmyard also gives a first-hand account of what it's been like for a shellfish business trying to get product across the Channel in the face of what seem to be constantly shifting rules, or interpretations of the rules.
This month's magazine also focuses on land-based fish farming and hatcheries. A huge amount of investment is going into this sector worldwide, and we take a look at what is driving the rush from the sea to the land.
Other topics in the February issue include the never-ending struggle to deal with the problem of sea lice; a new campaign to get more seafood on everyone's menu; and seaweed's advantages as a crop that can help absorb carbon and, therefore, play its part in tackling climate change.
And, of course, the magazine features your monthly round-up of industry news, product launches and other features.