Tesco confirms 9,000 jobs at risk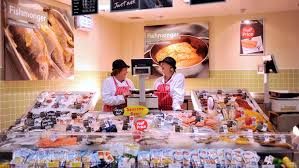 THERE was qualified relief in Grimsby last night that Tesco plans to closer fewer than reported fresh fish counters at its larger stores.
Britain's largest grocery retailer, which has more than 200,000 employees, announced that around 90 of its stores will lose their fresh food sections, although the counter opening hours at many of the remaining outlets could be cut back.
The move is part of a cost cutting exercise and the announcement means there is still a threat to up to 9,000 jobs, but the company said it hoped to save 4,500 posts through redeployment.
The bottom line, however, is that Tesco will be buying less fresh fish and meat this year.
Earlier, it was feared that the company would close fresh food counters at most of its 730 plus Tesco Extra stores.
Grimsby is a major provider of seafood to Tesco, with Seachill leading the way. Seachill recently won a significant contract to supply Tesco with shellfish.
But a number of smaller, third party fish suppliers could also be affected. It said that changing customer habits meant meat, fish or deli service areas were not being used as frequently, and the remaining 700 stores could also see a reduced counter service.
However, the retailer will continue to sell seafood through its chilled shelves and frozen cabinets.
Jason Tarry, Tesco's chief executive in the UK and Ireland, said: 'In our four years of turnaround we've made good progress, but the market is challenging and we need to continually adapt to remain competitive and respond to how customers want to shop.
'We're making changes to our UK stores and head office to simplify what we do and how we do it, so we're better able to meet the needs of our customers.'
Some analysts believe this could signal the beginning of the end of the in-store butcher and fishmonger, which tend to patronised by older customers.
Rival supermarket chain Morrison has a flourishing fish processing factory in Grimsby, dedicated to supplying fish counters at its stores, and it may well pick up extra business following the Tesco decision.