Tasmanian fish farming set to expand offshore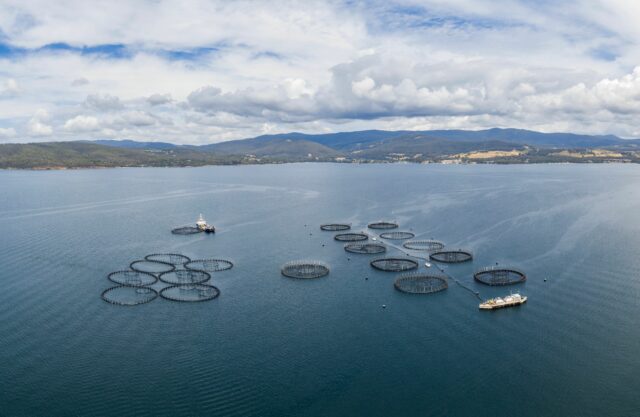 The Australian and Tasmanian governments have agreed to work together on a framework that could see the development of offshore aquaculture in Tasmania.
A memorandum of understanding between the federal and state governments has given the green light to research into the feasibility of expanding fish farming into sites further out at sea. It comes as the industry has faced fierce criticism over the impact of fish farms, especially salmon, in inshore waters.
Assistant Minister for Forestry and Fisheries and Senator for Tasmania Jonathon Duniam and Tasmanian Minister for Primary Industries and Water Guy Barnett said the joint agreement between the Australian and Tasmanian governments will help examine the economic, environmental and operational feasibility of offshore aquaculture.
The research will be led by the Blue Economy Cooperative Research Centre (CRC), an independent not-for-profit company funded under the Australian Government's CRC Program.
Senator Duniam said: "Currently, aquaculture in Australia is operated in state or territory waters and by moving further offshore – more than three nautical miles – we can harness recent technological improvements and investigate the potential environmental and resource access benefits available from undertaking aquaculture in deeper waters."
"In 2017, the Australian Government committed to developing arrangements for aquaculture in Commonwealth waters, and this is a significant step towards reaching that goal."
"The outcomes of this work won't just be about Tasmania. This will provide valuable information on the potential for offshore aquaculture for all states and territories."
He added that aquaculture is currently worth $1.6 billion nationally. By going offshore, Duniam said, the Australian Government is backing growth towards its $100 billion Ag2030 goal.
Tasmanian Minister for Primary Industries and Water Guy Barnett said: "The Tasmanian aquaculture sector has been a national success story, with the industry growing steadily to provide world class products while also delivering jobs in regional Tasmania.
"In 2020, Tasmanian aquaculture gross value of production increased by over seven per cent to $931 million and this MOU with the Commonwealth fits perfectly with our recently announced 10-Year Plan Salmon Plan."
The Tasmanian Salmonid Growers Association, which represents major salmon companies Tassal, Huon Aquaculture and Petuna, said it welcomed the commitment to establish a framework for sustainable aquaculture opportunities in Commonwealth waters.
The announcement was not welcomed, however, by Federal Green senator Federal Greens Senator Peter Whish-Wilson, who told broadcaster 7News that the "deeply troubled" industry shouldn't be given a free pass to the ocean.
He said; "A global tide of marine plastic, climate change, and invasive species are putting radical pressures on the marine environment.
"We are very concerned at this national push to farm our oceans when they already face such enormous pressures."
Tasmania has been deeply divided over the future of aquaculture, with the publication of "Toxic", a book by anti-fish farming campaigner Richard Flanagan and billboards condemning the sector, while the Tasmanian government and the industry itself have robustly defended their record.