Star studded awards for salmon supplier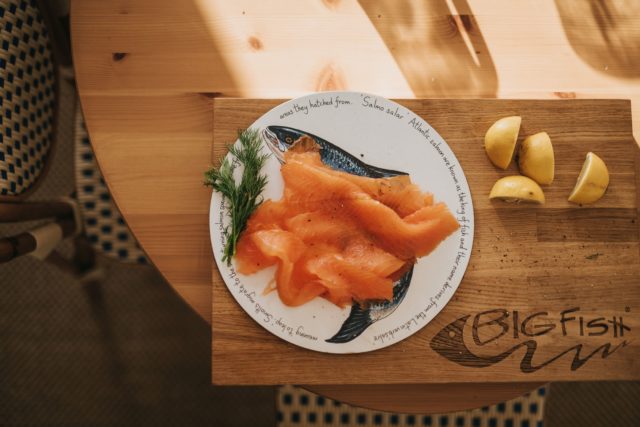 JCS Fish, the family owned Grimsby salmon and trout business, has picked up star studded praise and honours at this year's Guild of Fine Foods Great Taste award.
The company's BigFish Traditional Oak Smoked Salmon and Traditional Oak Smoked Sea Trout were each rewarded with two stars, with BigFish Lemon & Pepper Breaded Salmon Bites receiving one star.
The Guild of Fine Foods awards are an acknowledged benchmark for quality; the feedback from the judges praised the 'crisp and golden' BigFish Lemon & Pepper Bites, adding they were 'very moreish'.
Judging comments for the smoked products included for BigFish Smoked Salmon: 'Wonderful texture, we could eat a lot of this. A skilled hand at work.'
And BigFish Smoked Trout was described as: 'The smoke aroma is very well balanced, smooth and rounded… sensational.'
Andrew Coulbeck, who runs JCS Fish with his wife Louise, said: 'We are over the moon to get such a fantastic endorsement from the Guild of Fine Food.
'It is testament to the hard work of our small team here in Grimsby, plus the benefit of our long family experience and heritage in fish smoking.'
All the products are listed by Ocado and also sold direct from the BigFish website. They are also stocked at many independent retailers around the UK.
The couple started JCS Fish 19 years ago, building on Andrew Coulbeck's long experience in the salmon business.
The company has grown rapidly and supplies a comprehensive range of salmon and sea trout products to food service, catering and wholesale customers.
The company has won a clutch of awards in recent years and last month became only one of a handful of UK salmon suppliers accredited to handle and sell certified organic salmon.
JCS has a BRC AA grade factory in Grimsby.