Seafood sector gathers for safety initiative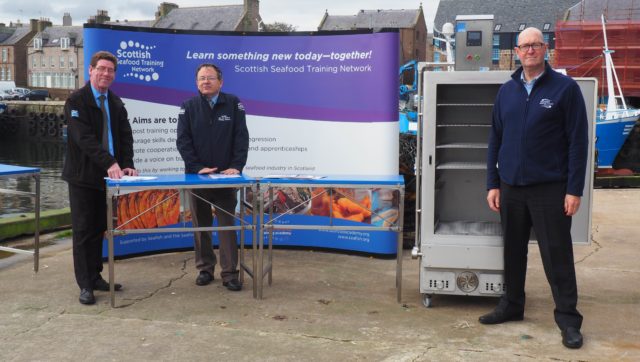 This week (Wednesday 24 June), Seafood Scotland and Seafish as part of the Scottish Seafood Training Network (SSTN), brought the industry together for a webinar with Helen Muir, Chairman of the SSTN, to establish what change is required across the sector to make it safer for workers and consumers.
Muir, Head of HR for Dawnfresh, shared many of the measures that Dawnfresh have recently undertaken to make its operations safe in light of Covid-19, and to ensure that production can continue around social distancing with new hygiene guidelines in place, as well as those that might come in the future as we deal with as yet indistinct crises.
Muir commented:
'Although the product is the same, Covid-19 changed almost everything about what we do to reach that point. For an industry that is process-driven we had complex systems in place that have been fine-tuned over years of experience.
'This Spring, we had a matter of days to upend our entire operation. From social distancing measures, touchpoint reduction and capacity reviews to making sure employees could still have breaks and holidays, and be safe in an emergency, every single aspect of our business was overhauled.
'Worker safety and quality product are 'mission-critical' areas for our operation, and so we did what needed done to ensure both continued. As a result, we are still processing, and importantly, market-ready for an increase in demand.'
At present, Scotland is running at around 50% processing capacity, but as markets prepare to re-open and consumers demand for premium seafood increases, the sector must be ready.
Donna Fordyce, from Seafood Scotland, commented:
'While some of the larger operations like Dawnfresh have been quick to act, some of the smaller processors have found getting back to some level of operational capacity a real challenge. It is hard to know where to start, and production has completely stopped in some places. However, to get the entire seafood sector moving again, all parts of the supply chain need to be up and running.
'The measures Dawnfresh have taken were necessary, implemented quickly and are constantly monitored alongside Government and HSE advice. They are a superb example of the level of action required by all to ensure key workers can operate. I hope the session serves as inspiration for those in the sector that have been unsure of what they need to do, and as a result, they can perhaps begin to get back to business.'