Seafood Global Excellence award winners revealed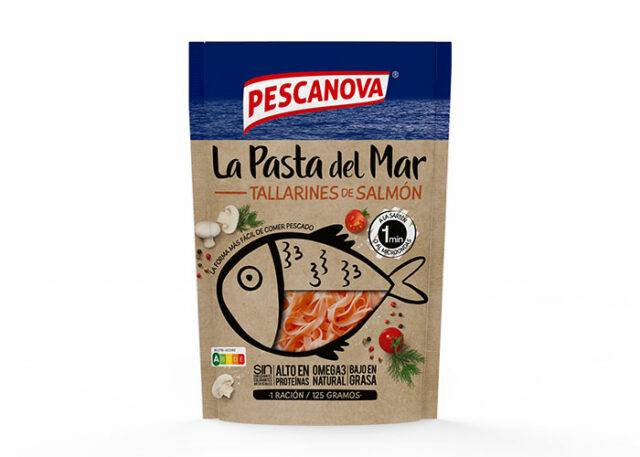 GlobeXplore of France and Pescanova España of Spain won the top prizes in the 2022 Seafood Excellence Global awards at Seafood Expo Global, the world's largest seafood trade event.
Among the other awards, a joint venture between two family-owned shellfish businesses, Krijn Verwijs Yerseke BV of the Netherlands and England's Offshore Shellfish scooped two special prizes.
The competition recognizes the best products exhibited at Seafood Expo Global, and the awards were presented at a reception this evening at the Expo, which is being held this year in Barcelona for the first time.
The award for Best Retail Product was presented to Pescanova España for its entry, Salmon Noodles. This product represents a new market category of pastas made with fish that are high in protein, a natural source of omega-3, and low in fat. The noodles are sold chilled and can be mixed with a favourite sauce or consumers can try the easy chef-developed recipe on the back of the package. The judges noted the "nice flavour and texture" of the pasta, its fresh, natural appearance, and the attractive package design.
GlobeXplore won the grand prize for Best HORECA (hotel/restaurant/catering) Product for its Seaweed Spread – Yuzu and Ginger. This product is a subtle and exotic mix of sea lettuce, ginger and yuzu designed to accompany both vegetable and meat dishes. Completely prepared and ready to use, it can also be the inspiration for chefs to create their own original seafood recipes. The judges particularly noted the "unique, yet delicious flavour" with definite afternotes of yuzu and ginger.
Krijn Verwijs Yerseke and Offshore Shellfish, which joined forces last year to create Premier Offshore VOF, won the Seafood Excellence Global special award for Retail Packaging for its product Bangkok – Mussels in Fresh Sauce with Lemongrass and Ginger, a convenient meal for one or starter for two with a chef-made sauce that can be prepared in just three minutes. The dish includes best-quality rope-grown mussels presented in a light Thai-style broth that can be served with udon noodles, pasta or rice. The packaging includes high quality photography in an attractive design with comprehensive consumer information and is 100% recyclable.
Krijn Verwijs Yerseke/Premier Offshore also won the Seafood Excellence Award for Best Seafood Product Line for its line of BAP-certified and organic mussels in fresh sauces. The line includes Bangkok – Fresh Sauce with Lemongrass and Ginger, Classic -Fresh Sauce with Thyme and Rosemary, and Avignon – Fresh Sauce with Wild Garlic. This line was recognized by the judges for the overall quality of the product, "the consumer appeal of all flavours", and the beautiful, eye-catching package design.
Pescanova España's Salmon Noodles were also awarded the Seafood Excellence Global special award for Innovation.
The award for Health & Nutrition was presented to Balfegó & Balfegó SL for its Balfegó Bluefin Tuna Loin. JC Mackintosh won the award for Convenience for its Smoked Wild-Caught Bluefin Tuna Carpaccio.
The winners of the 2022 Seafood Excellence Global awards were chosen from a field of 38 finalists representing 13 countries.
The judges for the 2022 Seafood Excellence Global competition were Debby Verheyen (who chaired the jury), Retail Business Partner for Seafood and Frozen Food for Ahold Delhaize in Belgium; Daniel Diaz, Seafood Purchasing Manager for La Sirena stores in Spain; Nicholas Baroux, Seafood Director for Supermarché Match in France; Sebastian Kiel, Fish and Seafood Product Manager for Chefs Culinar in Germany; and Paula Merrigan, Head of Purchasing for Yo! Sushi in the UK.