Seafish launches processing probe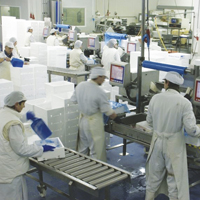 SEAFISH has launched a deep look at the UK's seafood processing sector, with a programme of financial, employment and sector research.
The probe has kicked off with a processing census, which is carried out every two years to collect information on the size, structure, and recent changes in the sector.
Data collection has already started and will continue throughout November and December, with results published in the Seafish Seafood Processing Industry Report 2018, due for publication next summer.
Meanwhile, a processing sector financial survey will be carried out in March 2019 in order to collect business performance data in processing. Results from this survey will also feature in the Seafood Processing Industry Report.
As the UK leaves the EU, there will be a big focus on employment and recruitment issues in food industries, which is another area Seafish has been looking at over the past 12 months.
The Processing Sector Labour Survey has been commissioned by Defra to collect data annually and quarterly on workforce composition and ease of recruitment in the seafood processing sector.
The latest quarterly results were published in October, with a variety of issues coming up, including a shortage of candidates, and potential candidates having negative perceptions of the industry.
The next round of research for the annual survey is taking place over November and December and the results will be released in March.
Steve Lawrence, project manager at Seafish, said: 'There have been some shifts in the seafood processing sector since we last published census data in 2016.
'The industry needs data to innovate and thrive and this current round of research is vital in helping us to understand how the industry is performing.
'A lot is mentioned about the impact of Brexit on the fishing industry but there is the potential for impacts on the processing sector too.
'Our research is shared with government and industry to support policy and business decisions related to the industry.
'We would like to encourage all seafood processors take part in the research to allow us to paint as accurate a picture of the industry as possible.'
Researchers will be contacting processors across the UK via telephone, email and post over the next few months.