Scottish Pavilion offers Brussels refund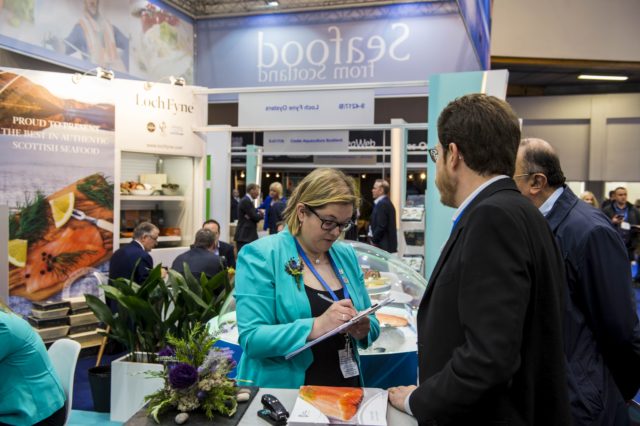 SCOTTISH seafood companies that had booked exhibition space at the now postponed Brussels expo are to be refunded by the Scottish government.
Any firms that booked space within the Scottish Pavilion at the world's biggest seafood exhibition, which had been scheduled for April 21-23, will get their money back, said Scottish Development International (SDI).
Although Seafood Expo Global is likely to be held at a future date, SDI has decided to refund Scottish exhibitors now to help them through the 'significant challenge' of the coronavirus outbreak.
In an email to seafood association heads, SDI, which coordinates the Scottish Pavilion, said: 'Our events team in SDI are in close contact with Diversified [organiser of the expo] to understand future plans, so that we can understand if and when there is going to be a rescheduled event.
'We will be refunding now any companies who have contracted directly with SDI to exhibit as part of the Scottish Pavilion at Seafood Global in April.
'Given the significant challenge the seafood sector is facing at the moment, we thought it critical that we act now. This is a large sum of money.'
The cost of an exhibition space alone is understood to be around £35,000 for the larger booths, with extra costs for building up the stand.
Scottish exhibitors who have contracted directly with Diversified should contact them to discuss refunds, said SDI.
More than 20 Scottish seafood companies were booked to exhibit as part of the Scottish Pavilion in Hall 9 in Brussels this year.
That included most of the salmon farmers, and trout farmer Dawnfresh. Mowi Scotland was due to exhibit, as usual, on its group stand in Hall 5. Cooke Aquaculture and Grieg Seafood also tend to exhibit outside the Scottish Pavilion.
A representative from one of Scotland's salmon farmers described the decision by SDI as a 'great gesture'.
Yesterday, seafood industry sources acknowledged that Covid-19 had had a 'massive' impact on the sector so far.