Scottish government announces £13m in seafood grants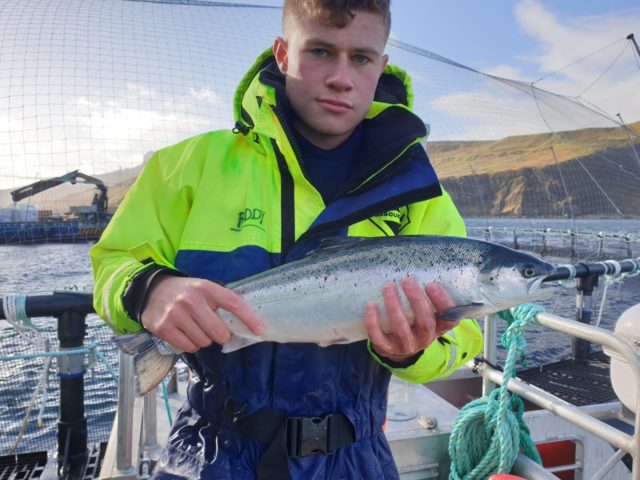 Seafood processors, salmon and shellfish farmers and fishing businesses are among the recipients of the latest round of funding from the Marine Fund Scotland.
The Scottish government-backed fund is distributing a total of more than £13m to 60 projects in the seafood industry, with grants ranging from £7,000 to £1.2m. As well as promoting growth for the industry, the grants are aimed at reducing its carbon footprint and improving sustainability.
Those selected for the current round include Organic Sea Harvest, which will received £1.1m for the installation of innovative full containment facilities at Lochinver. The project aims to reduce the number of wasted sea journeys due to bad weather, reducing fuel use, improving animal welfare, and allowing the company greater continuity of supply.
Employee-owned processing business Aquascot will get £1.2m for improvements and modernisation of the salmon and trout processing facilities at its factory.
A grant of £855,000 will go towards the purchase of equipment for Thistle Seafood, which recently acquired the former Dawnfresh processing plant in Uddingston, near Glasgow. The investment, which includes around £2m from the company, is expected to save 40 jobs and create 60 more at the plant. It will allow investment in water treatment, and cold storage will enable more efficient distribution, reducing the road miles for its products.
Thistle will also receive £33,000 for a new pastry machine to reduce waste in its en croute products.
Bell's Seafood, in Scrabster, on the north of Scotland, is to get nearly £170,000 for a new salmon filleting line which aims to meet increase in demand by producing more product while also reducing wastage.
Hatchery Landcatch Natural Section gets just over £150,000 for new heat pumps and oxygen generation systems being installed. This will enable the site to meet 100% of energy demand from renewables. They will also improve fish health and growth by optimising water temperature and oxygen content.
Salar Pursuits Ltd, which is developing innovative containment technology to protect fish in net-pens against sea lice, receives £27,671.95.
The Atlantic Salmon Trust will get nearly £623,000 for a project to improve information on the migration pathways of salmon smolts from nine West coast rivers to the open ocean. The initiative aims to inform the regulatory system regarding the impact of offshore developments such as aquaculture and renewable energy.
Loch Fyne Seafarms is to receive nearly £133,000 for a new facility to process its farmed shellfish for premium markets in the US and Asia.
Other funded organisations include fisheries and fishing ports, cold storage facilities and processors, seaweed producers and Seafood Scotland, which receives £1,625,000 for a promotional campaign in domestic and export markets, and £300,000 for the Scottish Nephrops Programme, promoting langoustines.
Duplication criticised
Announcing the recipients of the fund during a visit to a shellfish processing facility at Bellshill, Rural Affairs Secretary Mairi Gougeon said: "I am very pleased for those organisations and individuals whose applications have been successful this year.
"Marine Fund Scotland has enabled some really exciting projects in the past and I'm confident that this round of funding will play an important role in continuing to help our marine and fisheries businesses to develop and move to the next level.
"The Marine Fund Scotland will continue to be key in supporting sustainable development of Scotland's Blue Economy – investing in Scotland's seafood sectors, creating sustainable jobs, and helping to protect Scotland's marine environment."
Earlier this week, Mairi Gougeon had criticised the UK government's UK Seafood  Fund, which recently announced its own round of grants.
She said: "The UK Government continues to make spending decisions on marine and fisheries in Scotland, which is an area devolved to the Scottish Government.
"We have continually pressed the UK Government to commit to providing the Scottish Government with a fair share of the £100m pot which recognises the size and significance of our marine sectors, to distribute in line with our priorities.
"Instead, what we have is the UK Seafood Fund operating in the same space as our own established Marine Fund Scotland scheme, which already provides vital targeted grant assistance to the Scottish marine and seafood sectors to enhance quality, support innovation and add value. This causes unnecessary confusion and duplication."