Scotland Minister meets Bakkafrost on Faroes trip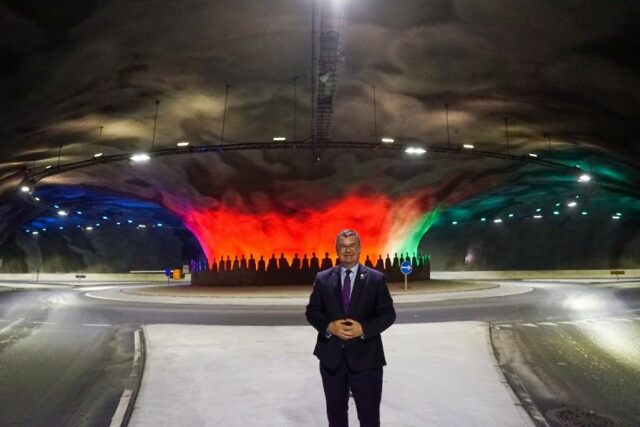 Iain Stewart, the UK government minister for Scotland, has just returned from a trade fact finding mission to Scotland and the Faroe Islands which included a visit to Bakkafrost, owner of the Scottish Salmon Company.
Bakkafrost bought SSC almost three years ago and is now investing heavily in the business.
In the Faroes he met with the Ministry of Foreign Affairs director Gunnar Holm-Rasmussen and Minister Magnus Rasmussen from the Ministry of Trade.
Discussions included shared opportunities from the fisheries sector and access to the jointly managed Faroes/UK Special Area in the North Atlantic.
He then called on Bakkafrost to talk about their plans for Scotland and later talked to executives from Føroya Tele, a public telecoms company, about rural connectivity and planned investments in Orkney and Shetland.
Scottish exports to both countries are worth more than £695m a year alone.
In total, the UK and Denmark have a £12bn trading relationship (imports and exports) and the figure is £881m for the UK and Faroes.
Minister Stewart said: "Scotland plays a vital role within the United Kingdom and it was an honour to promote our interests in Denmark and the Faroe Islands to encourage greater trade links to directly benefit Scottish communities.
"We greatly value the strong and important ties between the UK and our European friends, neighbours and fellow NATO members. There are enduring cultural, business and trade links between Scotland and Nordic countries."
The packed programme to Copenhagen and the Faroese capital Torshavn included getting a progress report from Ørsted, one of Denmark's biggest energy companies on its offshore wind investment into Scotland.
The Minister also held talks with the company that runs the archipelago's network of road tunnels to see whether it could be feasible to implement similar links between the Scottish Islands. As part of the visit he saw the world's second longest subsea road tunnel and the first undersea roundabout.