Scholarships announced for Europe's top-rated aquaculture master's degree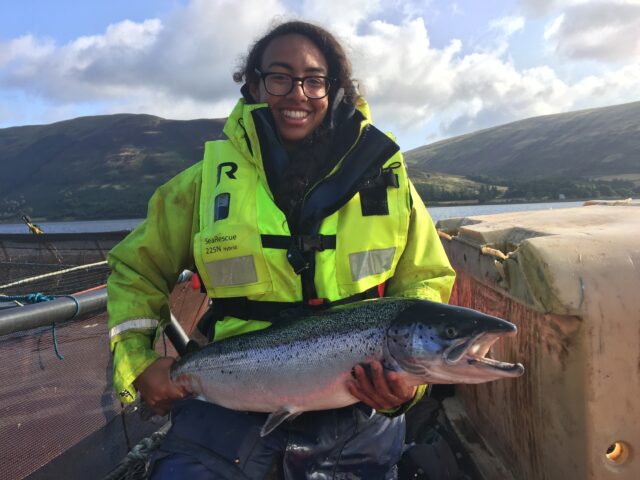 The Sustainable Aquaculture Innovation Centre (SAIC) and Erasmus Mundus are funding scholarships on the 2023-2025 Aquaculture, Environment and Society (ACES) Joint Master Degree programme.
Students on this two-year programme study at three centres of European excellence in aquaculture research: Nantes Université, University of Crete and the Scottish Association for Marine Science (SAMS), a partner of UHI. Graduates are taught by top experts in the field and gain practical and theoretical skills needed for a successful career in aquaculture through industry-led research programmes, internships and fieldwork.
The three successful recipients of the SAIC scholarship must have Scottish residency and undertake their dissertation project with one of SAIC's consortium partners. The Erasmus Mundus scholarships are limited to three students per nationality. To date, the programme has recruited students from over 45 countries, giving graduates the opportunity to build their international networks.
The ACES (Aquaculture, Environment and Society) programme particularly prepares graduates for work in senior management roles in a wide range of settings, including fish farms, environmental and regulatory organisations, international trade organisations, and also non-governmental organisations.
Former students have gained PhD positions, had papers published, become lecturers in universities and marine institutes, or are working in industry.
ACES 2020 alumni Aaliyah Malla, who now works in fish health, said of her time on the course: "Being able to research and explore shellfish and finfish aquaculture in various countries in Europe through the ACES programme [was] an unforgettable experience. The knowledge shared between fellow classmates and also the experts in academia and industry allowed me to continue to grow my networks and friendships. I'm so grateful for being accepted onto the ACES+ programme, as it helped springboard my career in fish health."
To find out more and to apply for September 2023 intake visit www.emm-aces.org or email aces@sams.ac.uk