Sandberg launches seafood business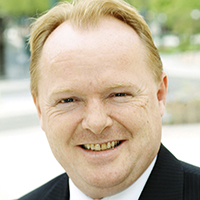 PER Sandberg, who resigned as Norway's fisheries minister last month over a controversial holiday to Iran, is planning to start his own company – and, unsurprisingly, it is connected to seafood.
He will work with his girlfriend, Bahareh Letnes, a former Miss Iran, who already has her own fish business.
According to the company register in Norway, his new venture, which is simply titled Per Sandberg, is involved in 'consulting, marketing, communication, counselling, courses, lectures and publications within a wide range of nutritional interests and policies'.
He says he also works with various marketing and food safety organisations in the Norwegian seafood industry and with technology companies related to seafood production.
Sandberg (pictured) resigned his post under intense political pressure when he took his girlfriend to Iran on holiday in July.
Although dubbed in Norway as the 'Iran affair', that was not the offence. He was brought down over a breach of protocol because he took his ministerial phone with him and did not inform the prime minister's office about his trip to a country with a poor human rights record until he was already on his way.
The United States, which is a major buyer of Norwegian salmon, was also planning sanctions against Iran and action against any country which trades with Iran.
A popular fisheries minister, Sandberg was replaced by Harald Tom Nesvik.