Salmon still UK's top food export, but sales are down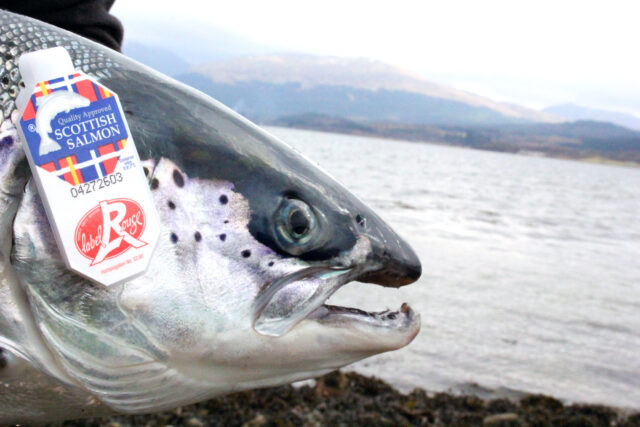 Scottish salmon was the UK's biggest food export in 2022, with sales of £578m, according to figures compiled by HM Revenue & Customs.
Fresh, whole Scottish salmon export sales of £578m were down by 6%, however, compared with 2021 when the figure was £614m. This is despite the higher prices for salmon seen in 2022. The record, with overseas sales of £617m, was set in 2019.
France was the biggest single destination for Scottish salmon. The European Union as a whole accounted for almost 64%, with the US and Chinese markets remaining popular. Scottish salmon was exported to 54 countries last year, with North America and Asia reporting strong demand.
Scottish salmon outperformed all the UK's other main food exports including bakery goods, chocolate, cheese, cereals and lamb.
Farm-raised salmon directly employs 2,500 people in Scotland and a further 10,000 jobs are dependent on the sector.
The volume of fish transported overseas fell by 26 %per cent, reflecting tight supplies globally and also biological issues that have affected harvest numbers in Scotland. Another factor is that more Scottish salmon being sold in the UK domestic market – which is valued at around £1.2bn per year.
Scottish Rural Affairs Secretary Mairi Gougeon said: "It is fantastic to see strong sales of Scottish salmon in 2022 and I want to congratulate everyone in the sector on another successful year.
"Scottish salmon is a world-renowned brand and its success is testament to the quality of Scottish salmon as a product.
"That is why we are committed to our ongoing work to encourage investment in research, development and innovation in Scotland's aquaculture sector alongside robust management measures, so that consumers can continue to have confidence in the sustainability of Scottish seafood… we will continue to engage with and listen to the Scottish salmon industry to understand how we can improve export opportunities and remove barriers to trade."
Tavish Scott, chief executive of Salmon Scotland, commented: "Scottish salmon is an extraordinary global success story that we can all be immensely proud of, supporting thousands of jobs and contributing hundreds of millions of pounds to the UK economy.
"With such pressure on public services during the cost-of-living crisis, the revenue generated by our farmers has never been more important.
"Scottish salmon, grown sustainably in the cold waters off our west coast, is recognised as the best in the world – which is why it is in such high international demand.
"Through responsible growth of the blue economy we can help feed the world, rearing one of the most nutritious foods that we can eat."