Salmon farms are the victim of wild claims and myths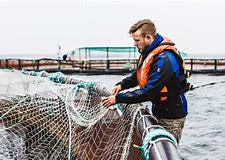 PANORAMA used to be the 'window on the world', where Richard Dimbleby, the father of current affairs television, established the standards of BBC excellence.
What would he have made of Monday night's 'expose' on salmon farming in Scotland, a programme that came up with a title and then set out to prove its premise without a shred of evidence?
To describe this as sensationalist suggests there was at least a revelation or two coming, but no. Panorama used its half hour of prime time viewing to rehash the narrative that salmon farming is a dirty business polluting Scotland's pristine seas.
This bastion of investigative journalism wheeled out 'wildlife photographer' Corin Smith who is in fact a member of the anti-salmon farm lobby group, Salmon and Trout Conservation Scotland.
From this powerful body of river owners, desperate to protect their riparian heritage, emanates the double-barrelled assault on Scotland's salmon producers.
The finger was pointed at Mowi, which not only farms salmon but is also foreign owned, as if that proved it was the devil's spawn.
Unsubstantiated accusations – by an anonymous former employee – were allowed to hang in the air, like the stench of dead fish.
Earlier this month, the BBC's One Show aimed the latest in a series of pot shots at the industry, its reporter, Joe Crowley, perpetuating the myth that wild salmon and trout have to swim through clouds of sea lice en route to the ocean.
There is no science behind these attacks, as became clear during the intense scrutiny of two Scottish parliamentary inquiries last year.
MSPs found insufficient grounds to support anglers' demands for a moratorium on the industry's expansion, but what did emerge was that salmon farming in Scotland is among the most regulated food production systems in the world.
The sector has existed for 50 years without any environmental disasters. It hasn't harmed tourism in the aquaculture zone, and it cannot be blamed for the decline in wild stocks, which are depleted in the big east coast rivers where there are no farms.
Panorama made no mention of the economic impact of salmon farming in rural areas, the 12,000 jobs it supports across the country, or the resurgence in Scottish boat building it has driven.
It is easy to see why the likes of Corin Smith have been embraced by the wild fish community. But why has the BBC decided to pursue the agenda of this elite minority of wealthy landowners at the expense of the hard working people of the Highlands and islands?
An edited version of this column appears in The Times today
https://www.thetimes.co.uk/edition/scotland/salmon-farms-are-the-victim-of-wild-claims-and-myths-qn939tzgr