Salmon Evolution starts first harvest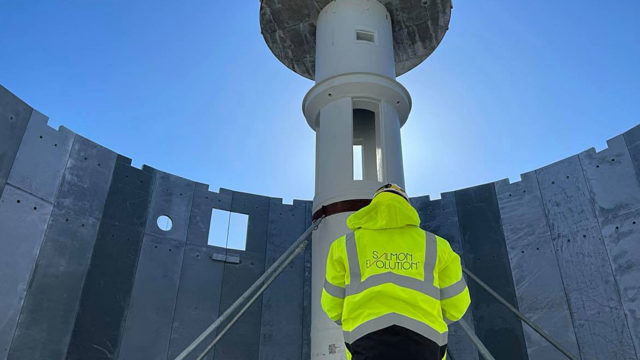 Land-based fish farmer Salmon Evolution says the harvest of its first commercially produced batch is going well, with 30,000 fish harvested at an average weight of around 4.7kg.
Harvesting for the company's first batch, at its hybrid flow-through facility in Indre Harøy, Norway, began in early November. It was carried out by Salmon Evolution's processing partner, Vikenco.
The company said the process has gone according to plan with minimal registered mortality and overall good fish welfare throughout the process. The remainder of batch 1 is planned to be harvested during the fourth quarter and Salmon Evolution expects an average harvest weight of around 4 kg HOG (head on gutted weight) for batch 1 as a whole.
On 13 July Salmon Evolution also released its second smolt batch at Indre Harøy consisting of around 230,000 smolt with an average weight of around 125 grams. This went according to plan, the company said, "…building on the experiences obtained in connection with the first smolt release, enabling a steeper ramp-up in feeding levels."
The company's report for Q3 says; "Batch 2 is continuing to demonstrate excellent biological performance with growth rates exceeding what seen for batch 1, clearly demonstrating the upside potential in our operation as we obtain more and more knowledge about how to best operate the system. As per 30 September batch 2 had an average weight of 710 grams and as of 15 November the fish had already reached 1.2 kg, continuing to exceed our expectations.
"Furthermore, the Company continued the production ramp-up post quarter with an additional ~200,000 smolt stocked late October at an average weight of around 220 grams, successfully completing our third smolt release so far in 2022. The fourth smolt release is expected to take place in December, with a planned volume of around 280,000 smolt which is in line with our steady state smolt release volume. For 2023 and onwards the Company expect to release smolt every second month, each consisting of around 280,000 individuals."
The company also reports stable conditions at the farm, with low mortalities and good results in terms of quality and taste.
Construction work is continuing at Indre Harøy and Salmon Evolution expects phase 1 to be completed by Q1 2023. All buildings and structural facilities are now completed and the construction work during and post the third quarter has been centred around installation of equipment, piping, system integration and commissioning.
As per today there are fish in four of the tanks with the next two tanks planned coming into operation shortly. The remaining tanks are planned to start operating over the coming months, allowing for stocking of new smolt batches and transfer of existing batches into new tanks.
Following a review of the project's likely costs with contract Artec Aqua, Salmon Evolution now expects the total capital expenditure to increase to NOK 1,560–1,590 million (£132m-£134m).
Salmon Evolution is also developing a joint project in South Korea with Dongwon Industries under the name K Smart, which also involves Billund Aquaculture, and is actively looking at options to set up another site in North America.
Last month, Håkon André Berg stepped down as CEO for personal reasons and CFO Trond Håkon Schaug-Pettersen was appointed Interim CEO.