SalMar posts higher Q4 profits, but Scotland disappoints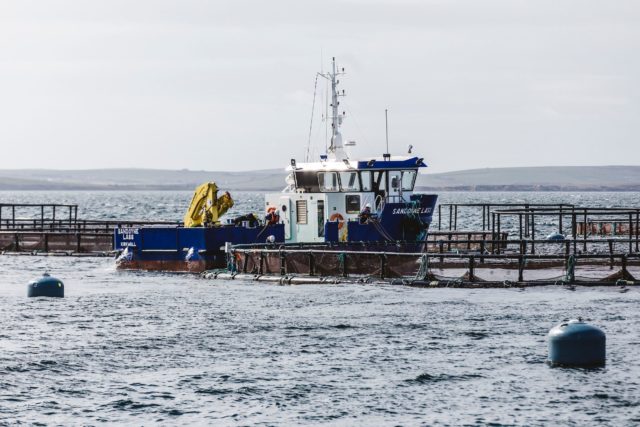 Salmon giant SalMar has announced a final quarter operating profit of NOK 890m (£74m) – more than double the 2020 Q4 figure of NOK 414m (£34.5m).
There were excellent results from its northern and central Norway farms and from Arnarlax, its Iceland salmon farming offshoot.
But the performance from Scottish Sea Farms (also known as Norskott Havbruk), in which SalMar has a half share, were disappointing.
SalMar said the SSF Q4 harvest dropped from 6,400 tonnes in 2020 to 4,900 tonnes this time. However the harvest for the whole year was well up at 32,400 tonnes against 24,000 tonnes for 2020.
Norskott Havbruk generated gross operating revenues of NOK 344m (£29m) in the final three months compared with NOK 773m (£64m) for the July-September Q3 period and NOK 427m (£35.5m) in Q4 2020. SalMar said the decrease is due to the lower harvest volumes.
The EBIT per kg gutted weight corresponds to a loss of NOK 5.84 against a predicted NOK 11.87 12 months earlier.
There are two main reasons for the decline. SalMar said the costs relating to the purchase of Grieg Seafood's Shetland business have been recognised in the figures and amount to NOK 6.7 per kg.
There were also biological challenges, particularly those linked to gill health, which had a had a negative impact on the final period's result. It has also led to harvesting of fish with a lower average weight, which has affected both cost and the price achieved.
SalMar's Q4 share of Norskott Havbruk's net profit came to a loss of NOK -11m (£900,000).
On the upside the company said it expected to see a  significant increase in the volume harvested this year by Norskott Havbruk/SSF as a result of the Shetland acquisition. SSF expects to harvest 46,000 tonnes in 2022.
Turning to overall group operations, SalMar's CEO Gustav Witzøe said: "Our team has delivered impressive results in many important areas, this has resulted in a record high harvest volume in the fourth quarter and in the year as a whole as a result of very good utilisation of the increased production capacity.
The results in the fourth quarter were weakened by higher costs associated with dealing with biological challenges and weak price achievement.
There is still room for improvement along the entire value chain, Witzøe added.
SalMar is about to take over the NTS group, which includes Norway Royal Salmon and SalmoNor, and this will hugely boost earnings and harvests this year.
Witzøe also said: "We plan significant investments in 2022 to further strengthen our platform for sustainable growth. We expect to invest NOK 2.1bn (£173m) in our value chain distributed across all our regions and segments in 2022, where the main part is investments that will give us increased capacity and flexibility for further volume growth."