Salmar and Lerøy report higher Q4 farmed fish harvests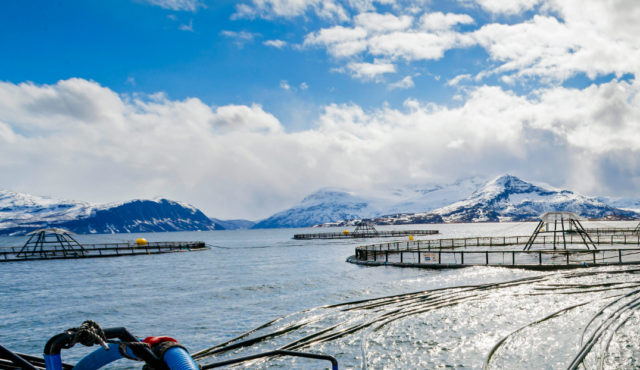 SalMar and Lerøy Seafood, two of Norway's largest salmon producers, have announced higher 2022 final quarter harvests in separate trading updates.
Both companies share ownership of Scottish Sea Farms, but that company's performance will not become known until the full results are published next month.
SalMar's Q4 harvest was 62,700 tonnes (11% up on the 56,400 tonnes in Q4 2021), made up as follows:
Farming in Central Norway, 32,600 tonnes
Farming Northern Norway, 24,100 tonnes and
Icelandic Salmon, 6,000 tonnes.
The company's total output from Norway and Iceland for 2022 totalled 193,700 tonnes which is more than 10,000 tonnes higher than the 2021 figure.
The 2022 total is made up of:
Farming Central Norway, 114,100 tonnes;
Farming Northern Norway, 63,400 tonnes and
Icelandic Salmon 16,100 tonnes.
It has been a dramatic year for SalMar, which acquired the NTS group following a protracted and sometimes angry takeover battle.
SalMar has since become the world's second largest salmon farmer following the acquisition of NTS and will publish its full Q4 2022 report on February 22nd.
This includes Norway Royal Salmon and the Frøy aquaculture support business which recently expanded further with the purchase of Marinus Aquaservice AS last week in a deal which greatly strengthens its presence in south west Norway.
Meanwhile, Lerøy Seafood's Q4 salmon and trout harvest, at 53,300 tonnes, is 2,000 tonnes higher than the same period in 2021. It was 174,600 tonnes for the full year, 12,000 tonnes down on 2021, a fall of just over 6%.
The Q4 trawler wild catch (Lerøy Havfisk) was 4,000 tonnes lower than a year ago at 13,100 tonnes of which 5,700 tonnes was cod. The full year catch, however, was slightly higher at 71,700 tonnes. The full Q4 report is due out on 21 February.