Royal visitors meet Organic Sea Harvest team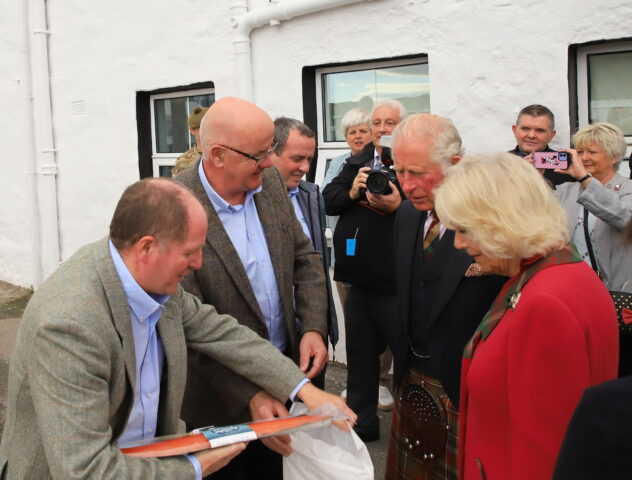 HRH Prince Charles and the Duchess of Cornwall sampled smoked salmon from Organic Sea Harvest on their visit to meet local businesses on Skye.
The royal couple, accompanied by Lord-Lieutenant Joanie Whiteford, were visiting businesses in Portree, Skye. They met with OSH's co-founders, Alister Mackinnon and Alex MacInnes, and Chief Operating Officer, Robert Wyvill.
Earlier this year, OSH carried out its first commercial harvest and delivered a fillet of organic smoked salmon to Clarence House, residence of the Prince of Wales.
HRH Prince Charles, whose title in Scotland is the Duke of Rothesay, is a longstanding supporter of the organic movement and owns a farm in England run entirely on organic lines.
Alex McInnes said: "It was an honour to welcome the Duke and Duchess of Rothesay to Skye.  I was delighted to share with them our carefully-produced, organic salmon. We are proud of our product and were thrilled to present it to the Duke, given his long-term devotion to organic farming methods.
"The Duke asked about our salmon farming methods, including our stocking density and how we handle sea lice.  It was a pleasure to talk to someone so knowledgeable and interested in our mission to create top-quality, organic salmon.  He was very positive and commented on our sustainability."